Lincoln Electric Adds Graveyard Shift(TM) Design to VIKING(TM) 2450 Series Auto-Darkening Welding Helmets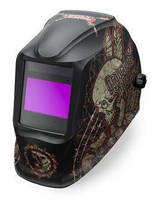 Cleveland - Lincoln Electric has added the new Graveyard Shift(TM) design to their array of 2450 VIKING(TM) Auto-Darkening Welding Helmets. The new Graveyard Shift(TM) features a matte black surface with a gothic-inspired skull and barbed wire design.

VIKING(TM) 2450 Series helmets feature:


Solar-power with battery assistance (from two user-replaceable lithium batteries)

Generous 2.4-in. viewing area height in a U.S. standard 5.25- x 4.50-in.-sized lens cartridge with four arc sensors

Internal, continuously variable 9 -13 shade control

Variable delay to adjust the time required to bring the helmet from a darkened view back to the light state

Variable sensitivity to control the cartridge's performance in varying environments

A "grind mode" allowing the helmet to be used as a grinding shield for weld prep or post-weld clean-up activities

Ability to perform at a low three amps DC and five amps AC polarity for the GTAW (TIG) process

Lighter weight than many auto-darkening helmets, weighing in at 21 oz. (602 g)

Additionally, all VIKING(TM) helmets include extra inside and outside cover lenses, a Lincoln Electric bandana and a sport-pak style helmet bag. The helmets are magnifying "cheater" lens and hard hat adapter capable.

The 2450 Series helmets are also offered in standard black and four other graphic styles, including Heavy Metal(TM), Foose® Hemisfear(TM), Patriot(TM) and Street Rod(TM). The standard black helmets include a decal sheet, allowing the user to customize their helmet with flags, logos or letter characters.

All VIKING(TM) helmets meet ANSI Z87.1, CAN/CSA Z94.3 and CE Certifications.

For more information on Lincoln Electric's VIKING 2450 Series Graveyard Shift(TM) Auto-Darkening Welding Helmet, call (888) 355-3213 or visit www.lincolnelectric.com to obtain bulletin E12.208.

The Lincoln Electric Company, headquartered in Cleveland, Ohio, is the world leader in the design, development and manufacture of arc welding products, robotic arc welding systems, fume control systems, plasma and oxyfuel cutting equipment and has a leading global position in the brazing and soldering alloys market.


Related