Lighted Inspection Tables Reveal Hidden Defects, Contamination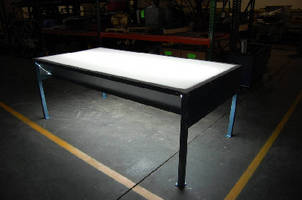 Illuminated Tables Assure Reusable Textiles, Machine Parts Meet Quality Standards



Greensboro, NC:  Lighted inspection tables from laundry parts and equipment manufacturer Talley Machinery Corp., Greensboro, N.C. (www.TalleyMachinery.com), shine neutral, fluorescent, white light upwards through the table surface to reveal holes, blood stains, oils, adhesives, loose threads, excess lint and other defects in reusable textiles, and surface imperfections in machine parts that may remain unseen by visual inspection with the naked eye. Ideal for installation in cleanrooms in textile services plants, machine shops, hospitals, nursing homes and other healthcare facilities, the lighted inspection tables provide an extra measure of quality assurance to help ensure that defective and/or contaminated sheets, towels, surgical gowns and other healthcare linens, as well as machine parts, are safely removed from service for repair or disposal.



Originally developed by Norman Control, the lighted inspection tables are offered in a choice of two standard models with a durable, steel frame, smooth, acrylic top and a comfortable, ergonomic working height of three feet. The illuminated inspection tables may be customized to suit a wide range of floorplan considerations and other requirements.



For more information, contact Randy Vansparrentak, Talley Machinery Corp., 7009 Cessna Drive, Greensboro, NC 27409; 800.222.9954; Fax 336.664.0036; rvansparrentak@talleyparts.com;  www.TalleyMachinery.com.  

More from Transportation Industry Products