Leybold Shows its Innovative Portfolio at This Year's "ANALYTICA VIRTUAL"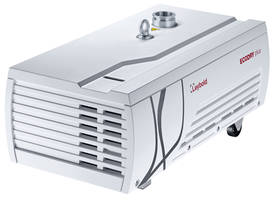 October 2020 - With its vacuum innovations for laboratory technology, analytics and biotechnology, the manufacturer Leybold is participating in this year's ANALYTICA from 19 to 23 October. The special feature: This year the trade fair will be held purely virtually – as analytica virtual. With this premiere it offers a platform for all exhibitors and visitors who would have refrained from participating due to the present global situation. In order to reach interested parties from all over the world, the exhibition will be accessible around the clock on all five days.
Vacuum technology is the core element in many analytical, research and laboratory facilities. Today, ergonomic, oil-free vacuum solutions that save energy and enable optimized data evaluation are in demand. The suitable vacuum components are an essential factor for the efficiency of running processes.
Product family of dry compressing Roots vacuum pumps ECODRY plus is extended 
An innovation from Leybold is celebrating its premiere at ANALYTICA: Leybold has extended its product family of dry compressing multi-stage Roots vacuum pumps ECODRY plus for laboratory, research and development as well as analytical applications. The ECODRY 40 and 65 plus versions are now joined by the new smaller pump sizes ECODRY 25 and 35 plus. With the completion of these ergonomic, lowmaintenance, economical and completely oil-free backing pumps, Leybold is thus closing a gap in its portfolio. "The pump is compact in its design, low-vibration, powerful, easy to operate and quiet," summarizes Product Manager Alexander Kaiser.
New members of the TURBOVAC i/iX series: sizes 850 i/iX and 950 i/iX
The trade fair portfolio of the vacuum specialist Leybold includes product presentations, brochures, videos and lectures - including the TURBOVAC i/iX series, which has been expanded to include the new sizes 850 i/iX and 950 i/iX. The two new turbomolecular pumps are characterized in particular by long, trouble-free operating times and lower operating costs. They are used in research and development applications where a clean and stable high and ultra-high vacuum is required - such as in analysis, thin-film research or helium recovery. In vacuum systems with limited installation space and little room for the vacuum pumps, the TURBOVAC i/iX variants offer maximum flexibility and can be mounted in any orientation.
High-vacuum plug & play pumping stations
The devices of the TURBOLAB series are plug-and-play high vacuum pumping systems and offer a wide range of variants: The systems are compact, fully assembled and can be put into operation immediately. Different configurations cover the special vacuum requirements of the R & D markets and analytical applications. The unique oil-free hybrid bearing of the TURBOVAC i/iX turbopumps and the choice of different drycompressing backing pumps enable hydrocarbon-free operation. These compact pump systems are delivered fully assembled and ready for operation. They include a turbomolecular pump, a backing pump and an innovative TPU display unit. 
The measurement technology associated with vacuum technology is essential for the evaluation of processes from basic research to industrial manufacturing. Leybold offers suitable measuring instruments, sensors and components for this purpose.
Measure - Analyze - Optimize 
TURBOLAB systems can be equipped with THERMOVAC TTR fore-vacuum gauges and PENNINGVAC PTR high vacuum sensors. Connected sensors are recognized and pressure readings are automatically shown on the display.
All critical parameters and operating conditions such as faults, warnings, frequency, temperature etc. are automatically recorded in an internal memory based on a standard time interval and can be adjusted by the user directly on site. An integrated web server allows remote control, monitoring and configuration of the TURBOLAB devices from the mobile device or from the computer via browser.
Leybold's vacuum measurement sensors offer real innovation in numerous applications in the range from 2000 to 10-12 mbar. These instruments offer higher precision, an extended measuring range, improved reproducibility and process stability. They complement the portfolio with new types of interfaces and additional ranges for use in lock chambers.
For further information, please contact:
Petra Endrös
Business Line Manager Scientific Vacuum
Leybold GmbH
T: +49 8808 923150
[email protected]
www.leybold.com
About Leybold
Leybold is a part of the Atlas Copco's Vacuum Technique business area and offers a broad range of advanced vacuum solutions for use in manufacturing and analytical processes, as well as for research purposes. The core capabilities center on the development of application- and customer-specific systems for the creation of vacuums and extraction of processing gases. Fields of application are secondary metallurgy, heat treatment, automotive industry, coating technologies, solar and thin films such as displays, research & development, analytical instruments, food & packaging, as well as a multitude of other classic industrial processes.
About Atlas Copco
Great ideas accelerate innovation. At Atlas Copco we have been turning industrial ideas into businesscritical benefits since 1873. By listening to our customers and knowing their needs, we deliver value and innovate with the future in mind. Atlas Copco is based in Stockholm, Sweden with customers in more than 180 countries and about 37 000 employees. Revenues of BSEK 95/ 9 BEUR in 2018.
For more information: www.atlascopcogroup.com