LED Adjustable Wall Packs and Bullet Flood Lights Expand MaxLite Outdoor Lineup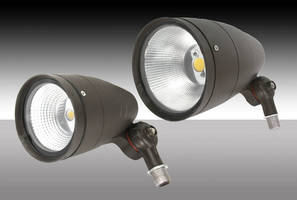 WEST CALDWELL, N.J. – Building on its line of flexible outdoor lighting solutions, MaxLite announces a new family of adjustable, installation-friendly LED Wall Packs and the launch of LED Bullet Flood Lights.



DesignLights Consortium-qualified LED Small and Large Adjustable Wall Packs offer significant energy savings over metal halide fixtures and are perfect for lighting outdoor walkways, landscapes, parking areas, schools, hospitals, hotels, offices and other commercial spaces. The fixtures are constructed with chip-on-board LEDs on pivoting heads that aim light precisely, minimizing glare and backlight.



The wall packs are designed for quick and easy installation. They feature an unfastened back plate that is attached to the main body with easily removable security tape, so they are ready to work with right out of the box. Back plate mounting hinges on the small wall pack series allow the fixture's main body to hang on the already-installed back plate during wiring, making it possible for a single person to install the fixture and have both hands free during wiring. Both small and large models are easy to align thanks to an internal bubble level.



MaxLite's LED Wall Packs are designed with sleek, heat-sinking fins that extend the L70 lifetime of the fixtures to an exceptional 120,000 hours at 25°C, following TM-21 standards. Efficacy for both fixture sizes exceeds 80 lm/W, translating to 75 percent energy savings over the high-intensity discharge luminaires they are designed to replace. The wall packs operate on standard 120-277 power supply and include optional voltage-specific photo controls that power the fixture when ambient light levels reach 20 lux or below, and turn it off at 30 lux or above, for efficient operation.



Small adjustable wall packs are available as 13- and 26-watt fixtures that deliver up to 2,345 lumens, suiting a broad range of residential and commercial outdoor lighting needs. The larger, 74-watt model is offered for applications requiring higher light outputs. The large adjustable wall pack delivers 6,230 lumens, designed to replace up to a 250-watt metal halide fixture.



The fixtures' architectural-grade design and minimal footprint allow for discreet lighting that works with any building design. Offering a crisp daylight color temperature, MaxLite LED Wall Packs are constructed with a durable, die-cast aluminum housing. Rust- and corrosion-proof, they are IP66-rated to keep out dirt and insects. To learn more, view the product page at http://www.maxlite.com/products/led-adjustable-wall-packs and images at http://www.maxlite.com/PDFs/PR/PRkit/MaxLite_NewWallpacks.jpg.zip.



"Our new adjustable LED Wall Packs are engineered with features that make installation and placement of lighting even more user-friendly," said Product Manager Francisco Garza. "With high light output and efficacy, our newest fixtures are efficient and deliver a bright light to effectively illuminate high traffic areas."



The new LED Bullet Flood Lights provide energy-efficient, directional lighting for landscape, facade and outdoor signage. Sealed to keep out dirt, bugs and moisture, the Bullet is constructed with a precision die-cast aluminum housing and tempered, shatter-resistant glass for durability. Replacing up to a 150-watt metal halide, the Bullet is offered in crisp daylight of 5000K, as well as a warmer 3000K temperature, all in NEMA 5X5 field distributions. The Bullet can be surface mounted directly to electrical boxes or posts and features a locking swivel arm for angle adjustment. For complete product details, go to http://www.maxlite.com/products/led-bullet-flood-lights.



About MaxLite (www.maxlite.com)

MaxLite has been committed to providing energy-efficient lighting products for more than 20 years, and was one of the first movers into LED technology in the industry. An ENERGY STAR Partner of the Year, MaxLite established the MaxLED brand, an extensive line of state-of-the-art indoor and outdoor lighting lamps and luminaires. Through MaxLite's innovative research and development capabilities in its new LEED-certified California office and product assembly center in New Jersey, MaxLite continues to be at the forefront of energy-efficient technologies. For more information, call 800-555-5629, email info@maxlite.com, or follow us on LinkedIn, Facebook and Twitter.

More from Fluid & Gas Flow Equipment