Leading-Edge Narrowband SIGINT from COMINT Consulting Now Available on SDR Receivers from Mountain RF Sensors, Inc.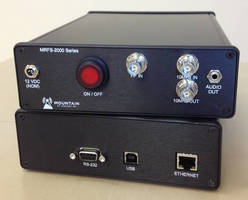 COMINT Consulting has just added four SDR (software-defined radios) by Mountain RF Sensors, Inc. to their list of receivers that are supported by the Krypto500 SIGINT software suite.



Now the MtRF-2001-M, the MtRF-2002-M, the MtRF-2001-R and the MtRF-2002-R are compatible with Krypto500 collection, analysis and decoding software. Users receive in-depth, unequalled signal classification that specifically categorizes more than 3,000 signaling systems, identifying specific equipment, specific variants and submodes of that equipment – and specific users.



"As we add more exponentially intelligent software to portable, adaptable receivers like those Mountain RF produces, we replace guesswork about targets of interest with actionable intelligence," said the Technology Director of COMINT Consulting. "We're here to meet covert communication in conflict zones at the level that it's happening."



The Mountain RF SDRs are ideal for leave-behind SIGINT and spectrum monitoring applications, supporting both analog audio and digital audio outputs.  MtRF 2001-M (100KHz to 30 MHz) and MtRF 2002-M (2MHz to 55 MHz) have Eurocard receiver boards while the MtRF-2001-R (100KHz to 30 MHz) and MtRF-2002-R (2MHz to 55 MHz) models are rack mounted.



In the coming months, compatibility for additional Mountain RF SDRs will be added with the Krypto1000 software suite, designed for VHF-SHF decoders for WB signals 48 kHz in bandwidth and larger. Krypto500 and Krypto1000 (scheduled for release in fall of 2014) will be available to test drive in booth 1204 at the 51st Annual AOC International Symposium and Conference in Washington, D.C. on October 6-9.



About Mountain RF Sensors, Inc.

Mountain RF Sensors is an OEM (original equipment manufacturer) in Fort Lauderdale, Florida, that designs and produces of customized radio frequency (RF) products for government and military customers. All products are fabricated on site for maximum response time. Member of the Association of Old Crows (AOC), the Association for Unmanned Vehicle Systems International (AUVSI), the Association of the United States Army (AUSA) and the Armed Forces Communications and Electronics Association (AFCEA).



About COMINT Consulting

COMINT Consulting leads the COMINT/SIGINT field with more collection points, modes, linguists, spectrum analysis and surveillance targets than any other signal intelligence provider. With more than 30 years of SIGINT experience, COMINT Consulting is trusted by agencies such as NSA, NATO, CIA, the U.S. Department of Defense and many others.