Leading Edge Automation Selects the QTERM-G58 Wireless Handheld HMI to Control Printing Press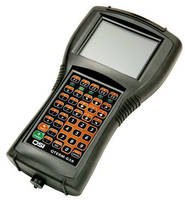 SALT LAKE CITY, UTAH - Beijer Electronics, a designer and manufacturer of human machine interface (HMI) products and mobile data terminals, announce the wireless handheld QTERM®-G58 HMI terminal was selected by Leading Edge Automation, an industry leader in providing variable speed drive, motion control and automation solutions for industrial applications.

Leading Edge Automation chose the QTERM-G58 as part of an upgrade to a CI Flexo printing press. The wireless capability allows the operator to freely move up and down the inspection line which decreases set-up time and saves on material costs due to less printing errors.

As a provider of drive and control system retrofits, Leading Edge Automation put together an upgrade plan for an aging 8-color Uteco-Jade 815 CI Flexo printing press. Due to customer delivery schedules and financial limitations, the printing press upgrade had to occur in stages.

A major part of upgrading the CI Flexo printing press included improving the operator handsets that are used to control the press. The original handsets were functional but needed to be plugged in. Operators had to remain close to the print deck in order to make any print adjustments. Plus, the original handsets were proprietary which resulted in expensive replacement parts and lengthy lead times. The wireless QTERM-G58 was chosen to replace the original operator handsets allowing operators the freedom to move to the inspection station and set-up print jobs or make any necessary changes to the ink placement or alignment.

"We researched the wireless marketplace and came across the QTERM-G58 handset; it was exactly what we had been looking for," said Robert Cappuccitti, Vice President of Leading Edge Automation, Inc. "It allowed us the programming flexibility we needed, and the keypad customization made it fit the project perfectly."

The QTERM-G58 HMI features a 3.5" (89 mm), 320 x 240 pixel, sunlight-readable, LED lighted TFT-LCD display, resistive touch screen, 24- or 40-key customizable keypad, optional 802.11b/g wireless Ethernet, internal lithium polymer rechargeable battery, Atmel® ARM9 200 MHz processor and Windows® Embedded CE 6.0 or Qlarity® object-based programming language for application development. The QTERM-G58 can operate in -20 to 60 °C and is NEMA-4 rated.

"With the rugged design, wireless capabilities and customizable features of the QTERM-G58, we feel it is the perfect fit for Leading Edge Automation," said Bill Woahn, Vice President of Sales and Marketing for Beijer Electronics. "We are pleased that Leading Edge Automation selected Beijer Electronics and the QTERM-G58 product as a rugged solution to exceed their customer expectations."

"We knew that this was going to be a demanding project," continues Cappuccitti. "With the help of Beijer Electronics' customer service and technical support throughout the commissioning process, the outcome was a success."

For more information about the QTERM-G58, visit www.beijerelectronicsinc.com/product/industrial/qterm-g58.php.

About Leading Edge Automation

Leading Edge Automation is a drives control and industrial automation company that provides state-of-the-art products and services to a wide range of industries and demanding applications. Leading Edge Automation is also a major authorized distributor for the versatile Parker SSD Drives product line.

In addition to our strong engineering and product offerings, we are able to provide complete turnkey solutions to our customers. Machinery rebuilds, equipment relocation, and electrical contracting services.

All systems are engineered, documented, manufactured, and tested at Leading Edge Automation in Mississauga, ON. For more information, contact Leading Edge Automation at 905-712-9451 or visit www.leadingedgeautomation.com.

About Beijer Electronics

For thirty years, Beijer Electronics has designed and manufactured human machine interface (HMI) products for industrial OEMs and vehicle systems integrators. Products include automation software, operator panels, industrial/panel PCs and environmentally-rugged QSI(TM) HMIs and TREQ® mobile data terminals.

Beijer Electronics is a fast growing technology company with extensive experience of industrial automation and data communication. The company develops and markets competitive products and solutions that focus on the user. Since its start-up in 1981, Beijer Electronics has evolved into a multinational group present in twenty-one countries. Beijer Electronics is listed on the NASDAQ OMX Nordic Exchange Stockholm's Small Cap list under the ticker BELE. For more information, contact Beijer Electronics, Inc. at 801-466-8770 or visit www.beijerelectronicsinc.com.