Leading Drug Discovery and Development Company Harmonizes Data Analysis Workflows Across All R&D Sites Worldwide Using Genedata Screener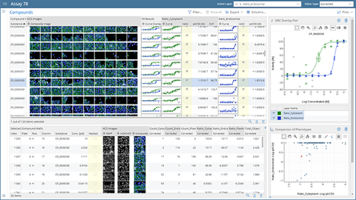 Leading drug discovery and development partnership company Evotec deploys market-leading software platform for support of its broad and innovative assay and screening portfolio, gaining speed and efficiency
Basel, Switzerland—February 18, 2021—Genedata, the leading provider of enterprise software solutions for biopharmaceutical R&D, today announced that Evotec, the global drug discovery alliance and development partnership company, has expanded its deployment of Genedata Screener® to its research sites worldwide. This broad adoption of Genedata Screener helps Evotec to drive its research with standardized assay data of the highest quality, and to simplify collaborative workflows on projects across sites and with biopharma customers globally.
Evotec has now adopted Genedata Screener for all assay types, in particular for the analysis of its modern assay portfolio such as automated patch clamp screening, quantitative reverse transcription PCR, and high content screening, and to support its high throughput screening, hit-to-lead, compound profiling and safety testing programs.
Following the global roll-out, Evotec is able to switch from its legacy analysis tools and systems to the harmonized, technologically advanced system provided by Genedata Screener, with its capacity to analyze newer assay types, its centralized cost-effective global deployment, and Genedata's commitment to continuous development in support of increasing laboratory automation and digitalization. Standardizing on Genedata Screener enables advanced process automation and workflow digitalization, including workflow cost savings for Evotec.
Dirk Ullmann, Ph.D., Global Head of Drug Discovery Services at Evotec commented, "We have been working closely with Genedata scientists who have displayed a deep understanding of our R&D processes and workflows. We have enjoyed a very positive experience with Genedata Screener and seen a significant evolution of the software over that period to continually address our needs and those of our partners in the biopharma industry. These experiences have prompted us to deploy Genedata Screener globally to harmonize our data analysis workflow internally, and we look forward to the continued expansion of our successful relationship with Genedata."
"We are excited about our long-term collaboration with Evotec and our goal to automate complex R&D workflows, enabling Evotec to accelerate their research programs," noted Othmar Pfannes, Ph.D., CEO of Genedata. "We are working towards a fully integrated analysis workflow system that produces rapid results that can be summarized and reported at the click of a single button. By rolling out Genedata Screener across their research sites, Evotec validates our joint vision of making biopharma R&D more efficient."
Editorial Note
Genedata presented a poster authored in conjunction with Evotec at the ELRIG Drug Discovery Digital meeting in October 2020, entitled Automating High-Throughput RT-qPCR Analysis for RNA Drug Discovery. The poster provides an overview of the application of Genedata Screener to this modern assay type and is available for download on the Genedata website.
About Genedata
Genedata transforms data into intelligence with innovative software solutions and domain-specific consulting services that automate complex, large-scale experimental processes and enable organizations to maximize the ROI in their R&D, spanning early discovery all the way to the clinic. Founded in 1997, Genedata is headquartered in Switzerland with additional offices in Germany, Japan, Singapore, the UK, and the US.
www.genedata.com
LinkedIn | Twitter | YouTube
Contact
Miles Fisher-Pollard
Genedata
Public Relations
Phone: +41 61 511 8561
pr@genedata.com
More from Agricultural & Farming Products