Latest Webroot® Solutions Provide Superior Security without Compromise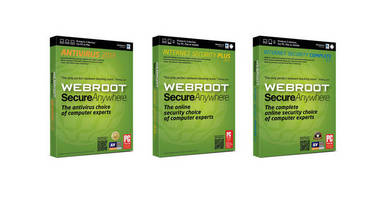 SecureAnywhere(TM) AntiVirus Recognized with PC Magazine's Editors' Choice Award

BROOMFIELD, Colo. - Webroot, a leader in delivering Internet security as a service, has released the latest updates to Webroot SecureAnywhere, its family of ground-breaking security solutions that uniquely protect individuals and families from the most dangerous online threats with less impact on system performance than any other security product available today.

In the first review since its 2013 product release, Webroot SecureAnywhere AntiVirus[1] again garnered the PC Magazine Editors' Choice Award. In his review, PC Magazine Lead Security Analyst Neil Rubenking wrote, "Webroot SecureAnywhere AntiVirus 2013 gives you speedy scanning and excellent malware blocking in a ridiculously small package. Webroot remains an Editors' Choice for antivirus protection."[2]

With the 2013 editions of SecureAnywhere, Webroot provides enhanced malware protection with even better performance, an improved user experience, and extended platform support. The company is also offering users of the SecureAnywhere Complete solution additional capabilities including faster, more flexible, and more secure file backup and sync functionality.

"Webroot continues to challenge the status quo when it comes to tackling the ever-evolving threat landscape and the arms race between cyber criminals and security companies," said Mike Malloy, executive vice president of Products and Strategy at Webroot. "Users shouldn't have to compromise performance for protection. They shouldn't have to disable security software and risk infection to do what they want online. We deliver cloud-based security designed to protect customers without interrupting their computing and online experience with long scans."

Enhanced Malware Protection

Webroot has extended all security features across the entire line of SecureAnywhere solutions, ensuring that all customers have the maximum protection including a built-in firewall, seven specialized security shields, identity and privacy protection, and social network protection. Users will see three new shields in this year's releases to improve proactive protection including:

- USB Shield - Blocks suspicious programs from infecting a system through
removable drives.

- Offline Shield - Provides robust protection against persistent threats
even if the system is not connected to the Internet.

- Zero Day Shield - Identifies and blocks new or changing threats from
entering a system even if it has never seen them before.

According to Rubenking, "Webroot doesn't use file-based signatures to identify threats; that's part of why it can be so small. Instead, it examines hundreds of file characteristics and behaviors and checks them against its cloud database. That means it can detect a never-before-seen zero-day threat just as easily as a well-known one."[3]

Powerful Generic Identity Protection

Webroot has significantly improved its generic system protection to fight identity-stealing threats, a class of infection which is notoriously difficult for conventional products to detect and combat. SecureAnywhere automatically blocks these tricky keyloggers, screen grabbers, man-in-the-browser attacks, and information-stealing trojan horse attacks. This extra protection layer works in addition to the antimalware components of SecureAnywhere, creating a powerful new layer of defense against the most malicious of threats in the same small, lightweight package. Webroot's identity protection capabilities are automatically configured to protect a user's financial data, providing superior protection for online banking and shopping.

Even Better Performance

Even with the record-setting small size and blazing performance of Webroot's 2012 solutions, SecureAnywhere is setting records again with the 2013 versions. Users will notice an even further reduced installation size (less than 750KB), and faster installation and startup times. In addition, Webroot blows the competition out of the water on the default scheduled scanning times - those scans that run on a user-defined schedule to check the entire system for threats. Webroot's full scan takes approximately one minute compared to an industry average of more than 80 minutes - more than 116 times faster. In addition, Webroot SecureAnywhere uses 91 percent less memory than competitors during a scan.[4]

Extended Platform Support

Webroot's SecureAnywhere solutions provide superior protection for the latest consumer operating systems including Windows 8, Mac OS X, Android and Apple iOS. With just one subscription, users can protect multiple devices regardless of the OS. Webroot is one of few security vendors to offer Mac protection integrated into its core solution at no additional cost. SecureAnywhere provides Mac users with real-time protection against dangerous Mac threats with both antivirus and antispyware capabilities along with Webroot's Web Threat Shield and Safari browser extension that prevents users from clicking on a malicious link. The Mac version has the same small footprint and fast scans that Webroot offers for PC users.

Improved User Experience

In addition, SecureAnywhere provides consumers an upgraded user experience with a customized, intelligent setup that analyzes how they use the Internet and the types of data they store and then makes recommendations for the most appropriate security settings. A more intuitive user interface keeps the user updated on the level of ongoing protection and any further recommendations. Webroot has also improved its already industry-best support with an integrated Personal Tech Support Agent that allows users get help with any questions.

Secure Online Backup and File Sync

In the SecureAnywhere Complete 2013 edition, Webroot has significantly improved the online backup and file sync capabilities and provides users with an expanded 25 GB of online storage. Providing the highest level of encryption for every file, Webroot provides Complete users with a secure option to store and synchronize files across devices. Files created on a PC can be accessed on a user's Android or iOS devices or other PCs.

Users have the flexibility to backup their entire hard drive or select which folders or files to backup. In addition, users can selectively identify which files are synched with which devices. Webroot offers users lightning-fast synchronization and customizable functionality with no limits on the number of sync folders. It also allows users to reference up to 5 historical versions of a file and to restore files if they have been accidentally deleted.

Additional Features

The Webroot SecureAnywhere Internet Security Plus and Complete 2013 editions also include a password management solution and encryption capabilities along with added protection for a user's tablets and smartphones. SecureAnywhere Complete also includes an all new System Analyzer feature to diagnose system vulnerabilities and sources of slowdowns. In addition, Complete users can take advantage of improved privacy features with System Cleaner, which can permanently erase files or folders with a right-click.

Pricing and Availability

The Webroot SecureAnywhere family of solutions are available now online and at select retailers.



Solution                    # or Users      Annual Price




Webroot SecureAnywhere      1               $39.99

Antivirus

                            3               $49.99

                            5               $59.99




Webroot SecureAnywhere      3               $59.99

Internet Security Plus

                            5               $69.99




Webroot Secure Anywhere     5               $79.99

Complete



ABOUT WEBROOT

Webroot is committed to taking the misery out of Internet security with its suite of Webroot(®) SecureAnywhere((TM)) offerings for consumers and businesses. Founded in 1997 and headquartered in Colorado, Webroot is the largest privately held security organization based in the United States. Webroot has operations across North America, Europe and the Asia Pacific region. For more information, visit www.webroot.com or call 800.772.9383. Read the Webroot Threat Blog: blog.webroot.com. Follow Webroot on Twitter: http://twitter.com/webroot.

© 2012 Webroot Inc. All rights reserved. Webroot is a trademark or registered trademark of Webroot Inc. in the United States and other countries. PassMark is a registered trademark of PassMark Software Pty Ltd. All other trademarks are properties of their respective owners.

[1] Webroot SecureAnywhere Internet Security Plus 2013 and Webroot SecureAnywhere Complete 2013 have yet to be reviewed.

[2] Reprinted from www.pcmag.com, with permission. © 2011 Ziff Davis, Inc. All Rights Reserved.

[3] Reprinted from www.pcmag.com, with permission. © 2011 Ziff Davis, Inc. All Rights Reserved.

[4] PassMark® Software, Webroot SecureAnywhere Cloud Antivirus vs. Seven Competitor Antivirus Products, Sept. 2012. To read the full report visit www.webroot.com/performance.

SOURCE

Webroot Inc.

CONTACT: Genevieve Haldeman, Webroot, ghaldeman@webroot.com , +1-650-292-6723

Web Site: www.webroot.com


More from Machinery & Machining Tools