Laser Reproductions Expands Model Development Lab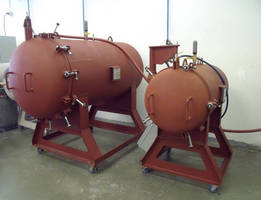 COLUMBUS, OH - The Laser Reproductions casting department is currently expanding its facility to accommodate supplemental pressure tanks. Laser Reproductions currently has two 24" x 48" tanks. As of July 6th LR has added another 24" x 48" tank along with an oversized 36" x 60" tank for larger molds. We have also added a 250 gallon reserve feeder tank to decrease fill times for the oversized tank. These tanks are an important part of the casting procedure. By placing molds in a pressure vessel we can, in almost all cases, eliminate air bubbles and voids in our cast parts.

The expansion is also intended to promote flow. Expanding from 1135 sq/ft to 1500 sq/ft will provide a more productive work environment, more 'room to breathe', and the ability to produce better quality parts in a shorter amount of time.

Laser Reproductions is a rapid prototyping service bureau located in Columbus, Ohio. Encompassing 18 SLA machines and a full in-house model shop, LR specializes in Stereolithography (SLA) and Cast Urethane Molds. Other services include SLS, CNC, FDM, DMLS, and Tooling & Manufacturing. Visit us at www.laserrepro.com or give us a call at 614.552.6905 to discuss your next rapid prototyping project.


More from Mounting & Attaching Products