Large Machining Centre Differentiates Subcontractor from Its Competitors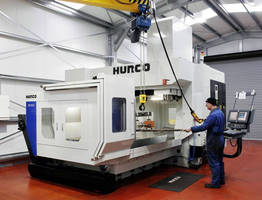 Few contract machinists in Scotland have a modern, vertical machining centre to match the 2,200 x 1,700 x 750 mm capacity of the Hurco twin-column, bridge-type DCX22 installed at the Coylton works of Ayrshire Precision. This was precisely why managing director, Bert Bradford, purchased the machine on spec in February 2011. Since taking the plunge, the company has secured new work in each of its main industry sectors - mining, nuclear and oil / gas.

The first new job to come along was refurbishment of explosion-proof, steel covers for transformers used in coal mines. They are cooled by water flowing through a hollow jacket, the inner surfaces of which need to be roughened to create turbulence and increase heat transfer to the water. These and other plates up to four metres long are machined for the mining sector on the 50-taper DCX22, the larger workpieces requiring two clampings on the 2,100 x 1,600 mm table.

Forty-metre-long distillation tanks for nuclear waste storage require many large, high tensile steel panels to be machined and 25 such vessels are planned in the UK to cool and make safe spent radioactive material. Ayrshire Precision has won a contract to contribute to this project, which involves not only milling the panels but also drilling large numbers of holes to accept temperature probes.

More recently, 500 mm diameter flanges for the oil industry have been machined cost-effectively on the DCX22, the first such machine to be installed in Scotland, thanks in part to the ability to set up four at a time on the table. Each flange requires milling and drilling of 16 holes. Centres have to be within ± 25 microns, while the tolerance held on a sealing groove is 18 microns total.

All four parts are completed in one hit to minimise tool changes and maximise production efficiency. Moving from one part to the next is achieved rapidly and automatically using the 'work offset' feature of WinMax, the conversational programming software in the proprietary Hurco control system. The same feature can be used for multiple part machining, even when setting up dis-similar jobs for unattended running.

To maximise, flexibility, Bert Bradford bought a universal angle head from Hurco for use on the DCX22, which is proving especially useful for machining internal slots and angled holes. A separate WinMax module was written by Hurco to accommodate this extra facility.

Mr Bradford commented, "During the MACH 2010 exhibition in Birmingham, Hurco gave a good demonstration of their WinMax-based twin-screen control system.

"We use the menu-driven, conversational programming nearly all the time, as it is so quick and easy at generating cutting cycles for our jobs, which in most cases are relatively simple. Occasionally we will program off-line on our Edgecam system for more complex work.

"The DCX is our first Hurco machine, but our lead programmer, David Torbet, had no trouble picking up WinMax and our other machine operators can use it as well."

On behalf of: Hurco Europe Ltd, Halifax Road, Cressex Business Park, High Wycombe, Bucks, HP12 3SN.

Tel: 01494 442222. Fax: 01494 443350.

E-mail: sales@hurco.co.uk

Web site: www.hurco.co.uk

Contact: David Waghorn, Managing Director.

AND

Ayrshire Precision Engineering Ltd

Low Coylton, Coylton, Ayr, KA6 6LF.

Tel: 01292 570728.

E-mail: Bert.Bradford@ayrshire-precision.co.uk

Web site: www.ayrshire-precision.co.uk

Contact: Robert Bradford, Managing Director.

Issued by: THE RIGHT IMAGE Ltd,

PO Box 42, Twickenham, TW1 1BQ.

Tel: 020 8891 0603.

E-mail: chris@therightimage.net

Contact: Chris Wright.

More from Electronic Components & Devices