Kwikset Convert™ Wins 2017 Techhome Mark of Excellence Award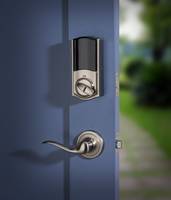 Kwikset's New Z-Wave™ Smart Lock Conversion Kit Honored as Security Product of the Year
LAKE FOREST, CA (February 13, 2017) – Kwikset brand of Spectrum Brands, Inc. – Hardware and Home Improvement Division, the leader in residential security, announces that its Kwikset Convert™ lock has been awarded a 2017 TechHome Mark of Excellence Award as Security Product of the Year.
Presented by the Consumer Technology Association (CTA)™, the Mark of Excellence Awards recognize the best in custom integration and installed technology. It is an annual competition in which manufacturers, distributors and systems integrators compete in more than 30 award categories. Kwikset representatives received the award in a ceremony at CES 2017.
Kwikset Convert is the company's new Z-Wave™ Smart Lock Conversion Kit. The kit will turn mechanical locks – even non-Kwikset locks – into smart, electronic locks, bringing the convenience of keyless entry and home automation to new consumer audiences.
"We are always extremely honored to receive awards for our new and innovative products," said Keith Brandon, Divisional Vice President of Residential Access Solutions, Spectrum Brands, Inc. – Hardware and Home Improvement Division. "But receiving a Security Product of the Year Award from an organization as respected as the CTA is especially rewarding. This award confirms our belief that Kwikset Convert is an exciting home automation and security solution that addresses the needs of dealers, distributors and consumers."
The new Kwikset Convert will appeal to design-driven homeowners who want a smart lock but also want to maintain the style of the front door or match an existing handleset, and don't want to change out their existing deadbolt. It will also appeal to renters, as well as owners of both condominiums and single-family homeowners whose HOA does not allow changing out the locks on their front door.
Kwikset Convert, in combination with any one of numerous home automation hubs, provides an easy-to-install, cost-effective entry into home automation. For consumers who already have a home automation hub controlling various systems (e.g., lighting, heating, A/V), Kwikset Convert creates "extension of automation," bringing automation directly to their door.
About Kwikset
Kwikset (www.kwikset.com), the leader in residential security, manufactures and markets a complete line of door locks and door hardware, including door knobs, door levers, deadbolts, handlesets, pocket door hardware and electronic keyless entry locks for residential and light commercial applications. Kwikset's SmartCode™ locks with Home Connect™ technology are the industry's leading wireless, access control lock solution for the smart home.
About HHI
Kwikset is part of Hardware and Home Improvement (HHI), a major manufacturer and supplier of residential locksets, residential builders' hardware and plumbing with a portfolio of renowned brands, including Kwikset®, Weiser®, Baldwin®, National Hardware®, Stanley®, Pfister™, FANAL™ and EZSET®.
HHI is a leader in its key markets with #1 positions in U.S. residential locksets (Kwikset), Canada residential locksets (Weiser), U.S. luxury locksets (Baldwin), and U.S. builders' hardware (National Hardware), and #3 in U.S. retail plumbing (Pfister). Headquartered in Orange County, California, HHI has a global sales force and operates manufacturing and distribution facilities in the U.S., Canada, Mexico and Asia. HHI is a division of Spectrum Brands Holdings, Inc. (NYSE: SPB).
About Spectrum Brands
Spectrum Brands is a global, diversified consumer products company and a leading supplier of consumer batteries, residential locksets, residential builders' hardware and plumbing, shaving and grooming products, personal care products, small household appliances, specialty pet supplies, lawn and garden and home pest control products, personal insect repellents, and auto care products. Spectrum Brands employs over 15,000 employees worldwide and sells to the top 25 global retailers with products in more than one million stores representing 160 countries.
More from Electronic Components & Devices