Kwalu Wins Nightingale Gold for Seating Lounge Collection at Healthcare Design Conference in New Orleans 2019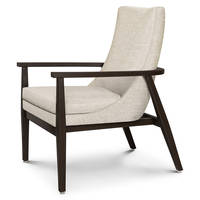 Kwalu's Prizzi Lounge Chair Wins Nightingale Gold
The Prizzi Lounge Chair by Kwalu® received the Nightingale Gold Award in the Seating: Guest/Lounge category. The award was presented at the annual Healthcare Design Expo and Conference. Presented by Healthcare Design and Contract Magazine in partnership with the Center for Health Design, the Nightingale Awards recognize contributions to the healthcare built environment through product design and innovations that actually aid in healing.
Designed to improve the overall wait experience, the Prizzi Lounge Chair fits aesthetically in modern or transitional wellness spaces with ease. It also features our proprietary award-winning finish. Comprehensive environmental cleaning and disinfection is the clinically proven method to significantly reduce the spread of infection-causing pathogens via surfaces. The Prizzi is designed for easy disinfection and for long-term cleanability. Earlier this year, the Prizzi received the prestigious Best of NeoCon Gold award.
CEO Michael Zusman says, "Kwalu is excited to accept this honor for the Prizzi. As a leader in wellness design, Kwalu's flexible products are moisture impervious, resistant to dings and will look like new for ten years. The Nightingale Award shows the judges believe our product is designed with the patient in mind."
Nightingale winners are selected by a jury of seasoned healthcare design professionals and healthcare facility managers, based on the product's contribution to a healing environment, its functionality, quality, durability, aesthetics and style, pricing and innovation. The winners were announced at HCD 2019 in New Orleans, LA on November 4th.
Contact:
Sylvia Nash, VP Healthcare
Kwalu
+1 678-690-5606
Jodi Fazio
Kwalu
6782960020
More from Fluid & Gas Flow Equipment