Kunzler Assures Food Safety with Metal Detectors from Mettler-Toledo Safeline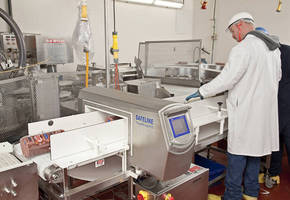 For over 100 years, the one thing that has never changed at Kunzler & Company, a family owned processor of specialty meats, is their absolute dedication to producing the finest quality products. To that end, Kunzler recently installed three new PowerPhasePRO metal detectors from Mettler-Toledo Safeline.

"We considered metal detectors from two vendors and brought trial equipment from both into the plant for a side-by-side comparison. Focused on food safety, we looked at detection sensitivity over our wide product range. The PowerPhasePRO metal detector was the winner," said Rodney Shultz, Facilities Manager at Kunzler's Tyrone, PA manufacturing plant.

"We installed our first Safeline metal detector in August 2009," added Craig Dutrow, Operations Manager at Kunzler's Tyrone, PA plant. "Based on our experiences with that system, we purchased two more for other production lines."

Kunzler produces over 500 quality meat products including hams, franks, bacon, luncheon meats and specialty items found in supermarkets, delicatessens, convenience stores, schools, theme parks, sports complexes, fine restaurants and quality-conscious kitchens throughout the U.S. They challenge most metal detectors by running a wide range of products of varying sizes, densities, moisture and salt content on each line.

"Our sales rep, Bob Dauphinais at Reliant Packaging Systems, was great," said Shultz. "He visited our plant and saw our production lines. He identified our challenges and anticipated our needs. He helped customize our first metal detector with a variable speed drive that allows us to control the spacing and orientation of product running through the metal detector. The more consistently we feed the metal detector, the better the performance."

This custom Safeline metal detector, with an aperture 8 inches high and 17 inches wide, was installed on a line that packages 25 different products that range in size from 12 oz to 11 lb. The line speed varies from 20 to 70 feet per minute, depending on the product being packaged. Dutrow said, "It takes only 30 seconds to change over the PowerPhasePRO metal detector. We can either pull down a pre-programmed product recipe or we can auto-learn each product."

Featuring an advanced coil design for superior detection sensitivity, the PowerPhasePRO zeros in on all types of metal contamination, including ferrous and non-ferrous tramp metal as well as stainless steel fragments. A "Faraday Screen" is located between the detector coil and the product to filter out unwanted frequencies, which further improves detection sensitivity while virtually eliminating false rejects. Triple frequency operation achieves the highest sensitivity across the widest range of products. The "product clustering" feature allows a family of products to be run with no operator intervention during changeovers.

At Kunzler, the environment varies dramatically - from 36 to 38ºF during production shifts to soaring temperatures and high humidity during sanitation shifts. The PowerPhasePRO is designed to handle this extreme temperature fluctuation and the high-temperature, high-pressure washdown itself. Featuring an IP36K-rated control panel, the PowerPhasePRO exceeds NEMA 4X specifications.

"At Kunzler, our highest priority is assuring a wholesome, safe product for our customers," concluded Dave Grazier, Vice President and General Manager. "The Safeline metal detectors have helped us achieve just that with perfectly reliable sensitivity and zero downtime. We're very impressed."

About Mettler-Toledo Safeline
Mettler-Toledo Safeline is the world's leading provider of metal detection and x-ray inspection systems for the food and pharmaceutical industries. Safeline's reputation as the primary provider of contaminant detection equipment is built on a commitment to innovative products supported by the most comprehensive product testing, engineering solutions, service and training in the industry.

More from Agricultural & Farming Products