KS Tooling, Inc. Provides High Speed Stamping for the Medical Device Industry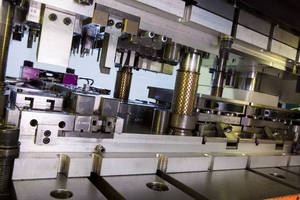 One of our customers manufactures lifesaving EPI pens. Before they came to us they were stamping the pens using gap frame presses with die speeds of 100 to 150 strokes per minute. They had a successful product, so they were looking to scale up production. Their strategy was to purchase additional presses and dies.



With a strong desire for higher speed presses, our client contracted a world class high speed punch press manufacturer.  Shortly after purchasing the high speed press, our client was directed to us to purchase a die that could match the performance of the press.



We built them high precision, high performance tools capable of running at speeds between 750 and 1,000 strokes per minute—nearly a ten to one difference in speed over their existing system. The tool was to be run in a four post Bruderer press.



The EPI pens our customer manufacturers are made of a number of stamped components, all of which they trusted us to build the dies for. The dies we constructed consisted of carbide tooling to maximize the time between required maintenance.  When we were finished, we had made their old dies and presses obsolete. And our solution saved them a considerable amount of floor space over their original plan.



Every million and a half parts, the dies are returned for maintenance, ensuring continued high precision production. The program was such a success that they had us build additional dies for additional volume. Those dies were cheaper to build than their original set, because the design work was already complete. Today our customer uses us exclusively.



For more information on KS Tooling capabilities, please visit our website www.kstoolinginc.com or call (717)-764-5817. 



More from Agricultural & Farming Products