Kollmorgen to Showcase Latest Motion Innovations at PACK EXPO 2019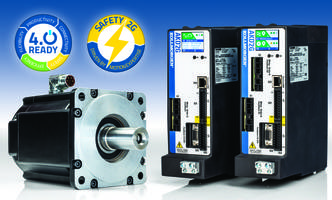 RADFORD, VA – August 21, 2019 – Kollmorgen will exhibit its industry-leading motion control technology, including exciting new products, at Pack Expo, September 23 - 25, 2019, in Las Vegas, NV. Attendees are invited to visit Booth C-3726 to learn how the company's new AKD2G servo drive and AKM2G servo motor system, software solutions for automatic guided vehicles (AGVs), robotic gearmotors, and hygienic motors help machine builders design machines with increased performance. 
Featured products and demos will include: 
AKD2G Servo Drive and AKM2G Servo Motor Solution: Learn how Kollmorgen's second generation servo drive and motor system delivers increased performance in a smaller space. The motor delivers 30% higher continuous torque compared to motors of equivalent size. The compact dual-axis servo drive offers twice the power density and boasts a digital current loop 50x faster than the industry standard. New connectivity also allows for easy remote monitoring of globally-distributed systems, including the ability to monitor machine performance for the purposes of predictive maintenance to maximize uptime. 
The 2G servo motor comes in 23 frame-stack length combinations with options for brakes and various thermal sensors, as well as a wide range of shaft, flange, feedback, and connector options. The 2G servo drive is optimized for single-cable technology and integrates safety features for a streamlined, more cost-effective motion solution for high-throughput applications like packaging and labeling. 
KAS Machine Automation Platform : Discover how the Kollmorgen Automation SuiteTM (KAS) helps OEMs build highly-differentiated and more profitable machines by bringing together highly-integrated and intuitive software, co-engineering services, and best-in-class motion components.
TBM Frameless Gearmotor : Learn how award-winning TBM frameless motors are optimized for fit and performance with industry standard strain wave gearing and industry-leading torque density to enable smaller, lighter, faster robots. 
AKMH Hygienic Motor : Find out how this durable IP69K-rated hygienic motor improves productivity and reduces the risk of food recalls while standing up to even the most challenging washdown environments. 
Visitors to Booth C-3726 are also invited to enter for a chance to win BOSE® noise cancelling headphones. 
 For more information about Kollmorgen technologies, visit www.kollmorgen.com , or call 1-540-633-3545.
ABOUT KOLLMORGEN
Since its founding in 1916, Kollmorgen's innovative solutions have brought big ideas to life, kept the world safer, and improved peoples' lives through its world-class knowledge of motion systems and components, automated guided vehicle software, and industry-leading quality. Kollmorgen's deep expertise in linking and integrating standard and custom products continually delivers breakthrough motion solutions that are unmatched in performance, reliability, and ease of use. Kollmorgen solutions give machine builders around the world an irrefutable marketplace advantage, while providing their customers with ultimate peace of mind.
Company Contact:
Kollmorgen
540.633.3688
linda.mecimore@kollmorgen.com
Agent Contact:
Longren & Parks
952.913.3065
julie@longrenparks.com
More from Laboratory and Research Supplies and Equipment