Kolbe's Windows and Doors Contribute to California Vineyard Home's Transformational Remodel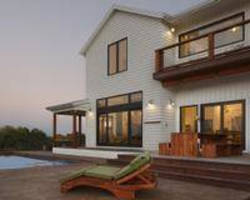 Wausau, Wisconsin -- Set on 20 acres in the Russian River Valley of Sonoma County in California's wine country, the remodel of this contemporary farmhouse focused on embracing the sweeping views of the surrounding pinot noir vineyard and pastoral landscape. Working closely with architect Amy A. Alper, AIA, Kolbe crafted the home's windows and patio doors to precise specifications including expansive, specially framed and custom mull configurations to capture real-life landscapes that rival fine art.



"One of the most important parts of the remodel was to vastly improve the quality of the windows and doors; the previous windows and doors minimized the views and were distracting, dated and not energy efficient. Amy and I wanted windows that were warm -- but not commercial or industrial, yet with clean lines, built to last and Kolbe delivered," says homeowner Steven S.



While he concentrated on consulting and running the vineyard, the owner trusted Alper to understand his desire for a space that fit the property and his lifestyle. "He needed a transformational remodel to the existing home," explains Alper, "It was a nondescript modular home. He wanted to redesign it to better suit the rural landscape and spirit of Sonoma County, while improving its functionality and energy efficiency."



Involved from design conception through construction, Alper offers her clients a collaborative, multi-option approach that results in an integrated design solution. Following this methodology and teaming up with Earthtone Construction, a number of studies were conducted to determine how to make the best use of the property.



Alper elaborates, "We examined a variety of design options, but found a second story addition to be the best solution for design impact – both inside and out. Reusing the existing foundation and walls produced significant savings."



Kolbe contributes to California vineyard home's transformational remodel



She describes the architectural vision as "twin forms separated by use – one for the voluminous living area and one for private areas; each clearly expressed with their own parallel rooflines. The 'between' spaces are for entry and kitchen with a casual loft above. The interiors have been designed to blur the lines between indoor and out, and to keep the rural palette of materials and textures reminiscent of the traditional, but with a modern sensibility. The scale of the windows is edgier and bolder than what you'd expect from a typical farmhouse."



360 Degree Views



Blending traditional and modern, openness and privacy challenged Alper throughout the project as she sought to "capture and frame the 360 degree views around the house." To arrive at the best solutions, she remained in frequent communication with Kolbe and its distributor Boulder Ridge Sash and Door.



"I consider them a partner in the process," says Alper. "It's not just the Kolbe products that matter; it's the people, too. I would frequently call or email the Boulder Ridge Sash and Door team with a very specific question during the design process. It's crucial to have that back and forth so the details are fully coordinated before construction starts."



For this project, Alper selected Kolbe Ultra Series crank-out casements, crank-out awnings, picture windows, swinging patio doors and Garden-Aire sliding patio doors. "The views are key," reiterates Alper. "The windows are all oversized. There are no divided lights as we didn't want anything to interrupt the view."



Kolbe contributes to California vineyard home's transformational remodel



She mentions several examples starting with the master bedroom's "two, huge, 6-foot-tall picture windows across from the bed." At the entry, Alper took the unusual approach to place a picture window where one might have expected the front door. "As you come up the front steps, the view unfolds – you can look all the way through the house to the back. Then you move left to the front door."



Perhaps everyone's favorite example of how the views help connect the home's indoor and outdoor spaces can be seen in the living room. Here, Alper says she "chose a direct set picture window with French doors to each side. If we had chosen French doors with sidelites, then the view is compromised at the very center of the view. Given the double height room, the transom adds both light and an opening in proportion to the room. We added awning windows above the doors to provide airflow when the doors are closed."



Rural Palette, Modern Sensibility



"Kolbe offers so many possibilities in its variety of windows and doors, and its range of high performance glass and exterior colors. Its Ultra Series line of windows and doors gave us all the options we needed for views, air movement, light, size and performance," praises Alper.



Kolbe contributes to California vineyard home's transformational remodel



Kolbe Ultra Series windows and doors are made-to-order with extruded aluminum on the exterior, finished with durable, 70 percent fluoropolymer coatings. Matching the rural palette, Alper chose Truffle from the broad range of standard exterior colors. On the interior, an unfinished pine wood was stained in an Espresso color after everything was installed and moved into place. Antique Nickel multi-point hardware complemented the aesthetic.



"We're always thrilled to see Kolbe windows and doors specified for a project. The product is straight forward to install and we trust that it's going to stand the test of time in our clients' homes. We've recommended Kolbe windows and doors for numerous projects as a high-quality option," says Earthtone Construction's project manager, Kristen Miller. "The versatile design and customizable options fit with all kinds of design styles."



Alper continues, "To unify the units that are so important to the living room's signature views, we came up with a unique detail for the header between the doors and the transom. Although it's comprised of multiple units, Earthtone had sheet metal customized to fit over the structural header and finished to match Kolbe windows' aluminum cladding. It looks like a single unit and looks great."



She adds, "Both inside and out share horizontal siding, batten detailing, hog wire and rough hewn beams and posts. The steel and tile fireplace anchor the hearth as the heart of the home."



Stringent Performance



Addressing thermal performance and comfort, Kolbe Ultra Series standard products have LoE²-270 insulating glass. Alper notes, "California has stringent requirements to pass Title 24. The better the performance of the glass, the more glass you can use. Kolbe's great U-Factor and SHGC [solar heat gain coefficient ratings helped us pass without changing the design in any way."



The LoE²-270 glass also achieves maximum visible light and blocks 86 percent of the sun's harmful ultraviolet rays, which protects furniture, fabrics and other valuable interior items from fading. In addition, the glass in Kolbe Ultra Series products was tempered to comply with California's Wildland-Urban Interface code with respect to fire mitigation.



Substantially completed in April 2015, Alper remembers the project with fondness: "It was a happy project and a great collaboration," she concludes.



"One of the best compliments we can receive is the opportunity to work together on the next project," observes Carrie Hurd, Kolbe's regional manager. "Amy currently is working on multiple new projects that are being designed with products from either our Ultra Series or our VistaLuxe® Collection. We are excited to take on future challenges with her."

Kolbe contributes to California vineyard home's transformational remodel



Vineyard Farmhouse, Trenton Road, Santa Rosa, California

What began in 1946 as a two-brother team has grown into an internationally respected manufacturing company. Kolbe Kolbe Millwork Co, Inc. remains a privately held, community-oriented business located in Wausau, Wisconsin. Covering nearly one million-square-feet, its state-of-the-art facilities feature high-tech machinery and a design center to present the creative possibilities offered by Kolbe windows and doors.





More from Agricultural & Farming Products