KOHLER Engines Receives Engine of the Year Award for Product Innovation and Category Leadership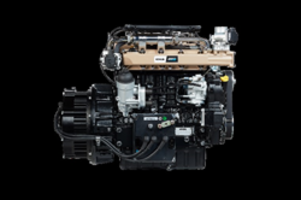 Company's K-HEM hybrid platform recognized at Diesel Progress Summit
KOHLER, WIS. (PRWEB) OCTOBER 25, 2019 - KOHLER Engines took home the top prize in the Engine of the Year (less than 175 hp.) category at the Diesel Progress Awards, which were recently presented in Louisville, Ken. Part of the inaugural Diesel Progress Summit, the awards program recognized leading organizations working within the off-highway equipment industry for achievement in design and engineering, product development, equipment distribution, and more. KOHLER Engines was singled out for its new KOHLER Hybrid Energy Module (K-HEM), a unique hybrid electrical and mechanical combined power generation unit. The K-HEM platform can run on mechanical energy or a combination of mechanical energy and electrical energy, or only on electrical energy, based on the specific requirements of an application.
"We're proud to be recognized for our work in developing new products that benefit equipment manufacturers and operators alike," said Jennifer Rindt, director of marketing for KOHLER diesel engines. "While diesel engines will continue to deliver unmatched power and performance to commercial users for many years to come, we believe new options – like our K-HEM platform – will eventually coexist in the market to serve the diverse needs of our end users. At KOHLER Engines, we're dedicated to working on the leading edge of engine design and technology to help ensure off-highway equipment continues to perform as smoothly and efficiently as possible."
Two K-HEM models have been unveiled – the K-HEM 1003 combines a 48-volt electric engine with a KOHLER KDW1003 diesel engine while it's larger sibling, the K-HEM 2504, combines a KOHLER KDI2504TCR diesel engine with a 48-volt electric engine.
KOHLER Engines has continually enhanced its engines lineup over the years as part of the company's longstanding commitment to help make life easier and more profitable for end users around the globe. The company offers a full array of gasoline, diesel and gaseous-fueled engines – up to 134 hp. – which are supplied to equipment manufacturers worldwide in the lawn and garden, commercial and industrial, agricultural and construction markets.
About Kohler Co.
KOHLER Engines is part of Kohler Co. Founded in 1873 and headquartered in Kohler, Wis. the organization is one of America's oldest and largest privately held companies. With more than 50 manufacturing locations worldwide, Kohler is a global leader in the manufacture of kitchen and bath products; engines and power systems; and owner/operator of two of the world's finest five-star hospitality and golf resort destinations in Kohler and St Andrews, Scotland.
Contact Information
Bill Bussler
Kohler Co.
http://www.KohlerPower.com
920-457-4441
More from Controls & Controllers