Waterjet Cutters and Cutting Machinery
JACQUET West Installing Massive New Jet Edge Waterjet System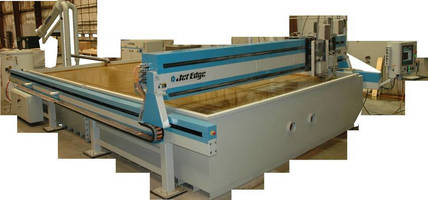 Los Angeles Area Metal Service Center Specializes in Supplying, Processing Stainless Steel, Nickel Alloys



CARSON, Calif. – Jet Edge Inc. is pleased to announce that JACQUET West is installing a second Jet Edge waterjet cutting system at its metal processing facility in Carson, Calif.  The Mid Rail Gantry system is JACQUET's twelfth Jet Edge waterjet nationwide.



JACQUET West's new large-format Jet Edge waterjet system features a 12'x 21' table which enables the metal service center to process full 8'x20' or 10'x20' plates.  Powered by a 60,000 psi 100 hp Jet Edge iP60-100 intensifier pump, the ball-screw driven waterjet system has the best repeatability in the industry at +/- .001", and features dual independent cutting heads to double production.  The Jet Edge system also has submerged or above-water cutting capabilities as well as height sensing capabilities to react to inconsistent plate height, providing maximum standoff accuracy from nozzle-to-plate.



A subsidiary of JACQUET Mid Atlantic which is a subsidiary of Jacquet Metals of Lyon Saint Priest, France, JACQUET West is one of five JACQUET metal service centers in the United States.  The company also has service centers in Charlotte, Houston, Pottstown, Pa. and Racine, Wis. JACQUET recently acquired the Rolark Group service centers in Canada, with subsidiaries in Edmonton, Toronto and Montreal.



JACQUET specializes in supplying and processing stainless steel and nickel alloys for OEMS, fabricators and machine shops that support primarily the oil and gas, power generation, pollution control systems and water purification industries. JACQUET's North American service centers provide waterjet and plasma part cutting.  The company stocks 19 different grades of stainless steel and nickel alloy plates in a wide variety of sizes and thicknesses.



More Information

For more information about JACQUET West visit www.myjacquet.com or call 877-JQT-WEST or 310-684-4370.

For more information about Jet Edge, visit www.jetedge.com, or call 1-800-JET-EDGE or 763-497-8700.



About Jet Edge

Established in 1984, Jet Edge is a global designer and manufacturer of waterjet systems for precision cutting, surface preparation and coating removal. Jet Edge systems are used around the world in a broad range of industries, from the world's leading airlines to automotive, aerospace, industrial manufacturers, machine and job shops. Jet Edge waterjets are proudly made in U.S.A.

More from Paints & Coatings