ISC Engineering Improves Injection Molded Strain Relief for Deutsch Series Connectors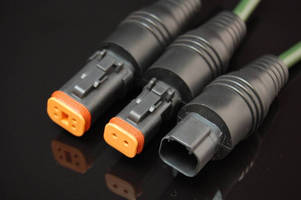 ISC has established a design for injection molding and longevity for field, off-road, and under-hood applications. We specialize in creating custom solutions for our broad customer base in an array of different markets.



Our improved design provides superior bend relief by injection molding a low durometer material over the existing ridge on the back of the connector. Not only does this method offer an aesthetic compliment to cables and harnesses, it helps prolong the life of your cable assembly by limiting the bend radius. By overmolding Deutsch connectors verses using heat shrink there is now a value-added solution available.



Our manufacturing facility can provide prototype and quick turn, along with sustaining production for your custom cable and harness needs. We have state of the art wire termination equipment and IPC certified operators that help bring your product to life.



To learn more about a custom overmolded solution for you, speak directly to one of our engineers.



Mark Davis, Direct Line 909-203-1125 or email

[email protected]

.



To view other products and services, visit our website http://www.iscengineering.com/.