Ipsen Ships Vertical TITAN® V6 Model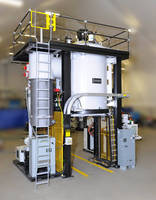 CHERRY VALLEY, IL - Ipsen, Inc. recently shipped a 2-Bar TITAN® V6 to the Texas plant of a top three global energy company. The bottom-loading TITAN® V6, with a 60 x 60 inch work area, shipped on one standard truck and was installed within days by Ipsen's field service team.

The TITAN® V6 offers energy efficiency, reduced footprint, easy to remove hot zone and heat exchanger, load-proximity controls, VacuProf 4 and much more. This particular model also included several standard options - all metal hot zone, operator access platform, 1000 gallon backfill reservoir tank, controlled cooling using a variable speed drive, and 10 Torr Hydrogen partial pressure.

With more than 60 years of thermal processing expertise, Ipsen provides the solutions heat treaters need to be successful: energy and cost efficiency, reliable robust equipment, manufacturing and service locations worldwide, 24-hour service, aftermarket support - parts and service, engineered components - retrofits and upgrades, thermal processing and furnace maintenance training. Visit www.ipsenusa.com for more information.

About Ipsen, Inc.

Ipsen, Inc. designs and manufactures thermal processing systems for a wide variety of markets, including Aerospace, Medical, Energy, Chemical and Automotive. With thousands of installed systems worldwide, whether it's innovative titanium knee implants, making cars more efficient, developing new jet engines or going to the moon, Ipsen delivers quality.


More from Cleaning Products & Equipment