Introducing The 2019 Living Impressions™ Collection by Formica Corporation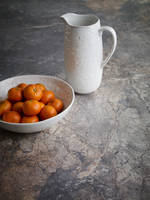 Inspired by striking stones from across the world, new offerings include 12 patterns, two finishes and two edge options
Cincinnati, Feb. 6, 2019 /PRNewswire/ -- From Turkey to Norway, and Columbia to Japan, Formica Corporation's newest offerings are a visual passport of stones and woodgrains from across the globe. The 2019 Living Impressions™ Collection features 12 new Formica® Laminate patterns, two new finishes and two new edge selections, all inspired to create a striking, lasting story of style in the home today and for years to come.
"The patterns in our 2019 Living Impressions™ Collection all have a story behind them," said Gerri Chmiel, residential design lead at Formica Corporation. "The designs are a symbol of their place of origin, but they will also become a focal point for homeowners to create their own stories and memories around them."
Six new 180fx® Laminate patterns
This year, Formica Group is celebrating 10 years of its exclusive first-to-market, true-to-scale scanning technology, 180fx®, which gives homeowners the drama of exotic granites, stones and woodgrains in a large-scale laminate.
Nero Marquina: A black marble originally from the region of Markina in the north of Spain, it is a fine black marble with crisp white veining, reminiscent of a painter's brushstroke.
Neapolitan Stone: Created from one of the most premium stones in the world today, Neapolitan Stone features the highest color variation of any granite. Comprised of whites, beiges, blues and warm grays, the pattern emulates the flow of sand on a Mediterranean beach.
Pietra Grafite: The No. 1 favorite of residential designers surveyed by Formica Corporation, Pietra Grafite is a soft gray with white veining that is clean with plenty of movement.
Istanbul Marble: A large-scale Turkish marble pattern with sharp, sweeping movement blending light and dark with flashes of rusty gold.
White Knotty Maple: A rustic take on North America's most popular woodgrain, this natural and raw look has authentic visual imperfections.
Smoky Planked Walnut: Emulating the Japanese art of shou sugi ban (burning wood to waterproof it), this charred, wire-brushed woodgrain reveals a distinct, luxe color.
Six new Formica® Laminate patterns
The Onyx Series: Two new Onyx patterns, Ice Onyx and Gray Onyx, add a glamourous and sophisticated element to any home, with their translucent appearance and rich pattern. Onyx designs have been popular in Formica Corporation's range for almost 50 years, but technological advances now allow Formica Corporation to capture the translucent qualities of the stone in both light and dark formats

Ice Onyx: A creamy white background offset with a radiant white crystalline structure
Gray Onyx: A soft gray background with clouds of creamy white and a subtle blue-gray crystalline structure

The Marmara Series: Two exquisite new marble designs originating from Turkey's Marmara Island in the middle of the Marmara Sea, the smallest sea in the world

Marmara Beige: A rich blend of beige, gold and gray
Marmara Gray: Monochromatic warm and cool grays, blended with an undertone of cream and taupe

The Oak Series: Two fresh and sophisticated new takes on a timeless woodgrain

Planked Raw Oak: A light and weatherworn woodgrain appearing mellowed by the sun and rain
Planked Coffee Oak: A darker, modern variation with a rich brown background and a slight purple cast in the graining
Two new finishes   
SatinTouch™: A new, smooth-to-the touch finish with a silky feel and sheen
Pure Grain: A highly usable woodgrain finish that adds dimension and depth to wood patterns 
Two new IdealEdge® edge options, now available in a 1.5-inch size
Waterfall: A true and even curved edge.
Double Radius: A balanced, curved edge
In addition, the Ogee and Bullnose profiles will also now be available in 1.5" size.
For more information on the 2019 Living Impressions™ Collection by Formica Corporation, please visit www.formica.com/LivingImpressions2019.
About Formica Corporation
Founded in 1913, Formica Corporation, part of the Formica Group of companies, is a leader in the design, manufacture and distribution of innovative surfacing products for commercial and residential applications. For more information about Formica Corporation, its products, special programs and promotions, visit www.formica.comor call 1-800-FORMICA™.
About Formica Group
Formica Group is a global group of companies consisting of Formica Canada Inc., Formica Corporation, Formica de Mexico S.A. de C.V., Formica IKI Oy, Formica Skandinavien AB, Formica Limited, Formica S.A., Formica S.A.S., Formica Taiwan Corporation, Formica (Thailand) Co., Ltd., Formica (Asia) Ltd., Formica Decorative Materials (China) Co., Ltd. and Homapal GmbH, among others. The Formica Group of companies is part of the International Business division of Fletcher Building.
Contact:
Kirsten de St. Aubin
Carmichael Lynch Relate
612-375-8539
Owen Serey
Formica Corporation
513-786-3121
Source Formica Corporation
Web Site: http://formica.com
More from Electrical Equipment & Systems