Insourcing Programs for Injection Over-molding of Cable Assemblies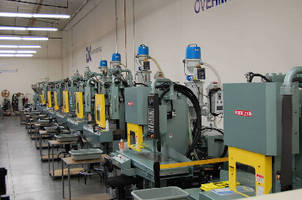 ISC reframes the meaning of "in-sourcing" by helping leading edge, forward thinking company's establish their capacity in custom molded cable development, assembly and production.



ISC Engineering has been an industry innovator in bringing manufacturing back to North America. Among ISC's many services are in-house tooling, molding, cable assembly, new product development and "insourcing" programs.  The process of "insourcing" is a unique offering designed to help other companies get into the business of over-molding.



Now why would a company that's in the business of over-molding want to help others to do the same? There are several reasons why ISC has decided to do this and also is able to do this in a timely and cost effective manner for others.



Let's first address the why. ISC is a US based manufacturer that believes there are competitive advantages to bringing jobs back onshore, these benefits include: logistic costs, logistics timing, increasing labor wages overseas, quality of products, responsiveness to changes, ability to monitor products and processes as well as time zone gaps. Bringing manufacturing back to the US is also a stimulant for the overall economy. ISC sees these "big picture" benefits as well as the benefit of selling their "know how" with others to build advantageous relationships.



ISC has developed the capabilities to be a one stop shop to help company's insource their own products. As part of the insourcing program ISC will assess your project(s) and see what molding machine(s) will be best suited. The proper molding machine(s) are chosen based off of the clamping force which is distinguished by tonnage (higher tonnage allows there to be a bigger "shot"). ISC also helps to make the mold base, modular tooling and training to operate the machine.



ISC's new way of approaching projects has helped over 50 business manufacturer their own parts and expand their strategic resources which are usually lost when outsourcing to Asia. ISC is a pioneer for bringing over-mold technology back to North America and has successfully insourced 70+ injection molding machines back to North America.



To learn more about ISC's new insourcing programs as well as turnkey solutions for cable assemblies visit www.iscengineering.com or call 909.203.1125.





More from Test & Measurement