Innodisk to Showcase Embedded Industry's Smallest SSD - nanoSSD at Computex 2013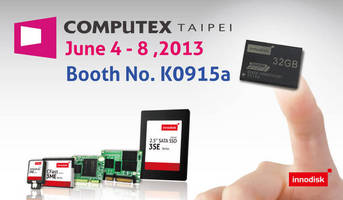 Taipei, Taiwan – Innodisk, a provider of industrial-embedded flash and DRAM storage technologies for commercial and industrial applications, will be at Computex 2013 from June 4 to June 8, 2013. Innodisk invites all interested parties to visit their booth (#K0915A at the Nangang Exhibition Hall 1F) and experience the wide range of customized DRAM and flash storage solutions that Innodisk has to offer.



The main feature of Innodisk's exhibit will be the world's first industrial-embedded SATA µSSD – nanoSSD. This tiny microSSD has dimensions of 16 x 20 x 2 mm and a weight of only 1.5g. Not just small and lightweight, nanoSSD features SATA III support and the performance to compliment it, with read/write speeds of 480/175 MB/s, respectively. With capacities ranging from 4 to 64 GB and both x86 and ARM compatibility, nanoSSD can be incorporated into a wide variety of applications where a small form-factor and high transfer rates are important, including industrial mobile devices, embedded systems, tablets, high-end smart phones and Ultrabooks.



Alongside nanoSSD, Innodisk will show its new line of SATA III products as well as its existing lineup of flash storage solutions that are fully compliant with the industrial-embedded industry's needs, including: thermal sensor implementation, -40°C to 85°C wide operation range, shock-resistance and military (MIL-STD-810F/G) compliant quick erase standards. There will be live demonstrations of anti-vibration, water-proofing, and conformal coating features.



In the DRAM field, Innodisk will show its ability to offer customized DRAM based on clients needs ranging from server systems to highly specific aerospace and defense applications. At Innodisk's exhibit will be DRAM ranging from SO-DIMM to Long-DIMM with customized features for specific applications such as rugged design, conformal coating, wide operational temperature range, and built-in thermal sensors.



Customized for non-x86 design systems, Innodisk will also showcase SODIMM with ECC and Mini-DIMM 32-bit DRAM modules which work especially well with ARM based tablet PCs and mobile devices.



Those interested in knowing more about the latest in industrial-embedded storage technology, Innodisk will be holding lectures on nanoSSD, SATA III and Innodisk's wear level visualization software – iSMART.



More from Sensors, Monitors & Transducers