IMS Company Launches New Fully Convertible Material Drum Tumblers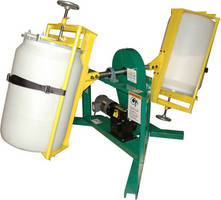 Chagrin Falls, OH - IMS Company announced today that it has launched their new fully convertible design for Material Drum Tumblers. IMS Company's Material Drum Tumblers are available in both single (corner) and double tumbler configurations. IMS Company's design improves flexibility and provides an easy solution for customers that have material mixing needs.

IMS Company's Single Drum Tumbler was designed to turn unused corners of the customer's facility into a productive place to mix materials. The single material drum tumbler now easily converts to a double tumbler with the addition of a rear leg set and a second drum holder instead of requiring the customer from buying a second drum tumbler when their mixing needs increase, which decreases the customer's total investment.

IMS Company's Material Drum Tumblers provides the industry with the ability of storing material in drums indefinitely, eliminating the need to clean the mixing vessel. This alone saves the manufacturer valuable time and money. IMS Company's Material Drum Tumblers also provide the quality customers have been accustomed to over the past 62 years. With a Baldor motor, Winsmith Gear Reducer, and a high torque belt drive, the IMS Company's Material Drum Tumblers last longer and need fewer repairs. IMS Company also ensures your investment by offering the industry's best two year warranty.

In an effort to meet the ever changing needs of the plastics industry, IMS has developed an extensive line of trouble free auxiliary equipment. Whatever the need, IMS has the right piece of auxiliary equipment that will allow you to operate efficiently and complete your project on time.

About IMS Company

For over 62 years, IMS Company has been a diversified distributor and light manufacturer of industrial products serving multiple industries. IMS Company is the oldest, most experienced, and the most trusted source of accessories, auxiliary equipment, parts, supplies, and technical advice serving the entire plastics processing industry. IMS Company also has other operating Divisions, namely IMS Industrial Manufacturing Supplies and IMS Engineering & Machining Services. IMS Engineering & Machining Services can provide custom replacement parts, repair and refurbishing services, and has a broad scope of design/build/fabrication capabilities. Off-the-shelf or custom-designed, all IMS Company Divisions market the best products and solutions to meet the requirements of our customers.


More from Non-Industrial Products