HVAC Energy Recovery Dehumidifier Earns Guelph (Ontario) a $20,572 Utility Incentive from Union Gas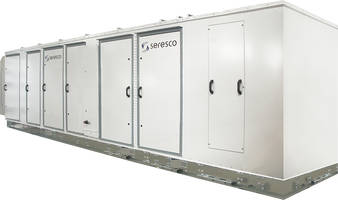 Guelph's Victoria Road Recreation Centre natatorium remodel includes an energy recovery system that saves 102,860 cu. m. (3.6 million cu. ft.) in gas savings annually.
Guelph, Ontario–The city of Guelph received a $20,572 utility incentive check last October from Ontario-based Union Gas Limited for specifying energy recovery HVAC dehumidification equipment used in the indoor pool area of its recently-renovated Victoria Road Recreation Centre (VRRC).
The NP-50 "Protocol" HVAC dehumidifier manufactured by Seresco USA, Decatur, Ga., qualified Guelph for Union Gas' Custom Engineering Projects section in its Commercial/Industrial Energy Efficiency Incentive Program. Guelph will save an estimated 3.6 million cu. ft. (102,860 cu. m.) in annual gas savings versus the previous system, according to bin data provided to Union Gas by Kilmer Environmental, a Mississauga, Ontario-based manufacturer's representative for Seresco and other HVAC brands.
The 50-ton dehumidifier heats, cools and dehumidifies the 6,873-square-metre (22,500-square-foot) VRRC's natatorium area that features a 50-metre competition and 25-metre teaching pool. The energy savings is generated mainly from recovering compressor waste heat to provide free pool water heating and use exhaust air to preheat incoming outdoor air. The previous HVAC design consisted of supply and exhaust ventilation air handlers, which was commonly used in natatoriums when the VRRC was designed in 1974. 
Consulting engineer firm, Smith + Andersen, Toronto, led the custom engineering design team and Brenner Mechanical Inc., Waterloo, Ontario, was the installing contractor.
"We promote energy efficiency with many programs and reward customers with incentives when they use high efficiency, energy recovery and other technologies that help conserve energy and preserve the environment," said Ian Dunbar, commercial/industrial account manager, Union Gas.
"The use of state-of-the-art heat recovery dehumidification equipment has significantly increased our energy efficiency while also providing Guelph citizens with a much improved indoor air quality and comfort in the indoor pool area," said Bryan Ho-Yan, corporate energy program manager for the city of more than 130,000 people.
About Seresco: Seresco USA Inc., Decatur, Ga., is the U.S. subsidiary of Seresco Technologies Inc., which is headquartered in Ottawa, Ontario. Seresco specializes in commercial and residential indoor swimming pool dehumidifiers and other indoor air quality HVAC equipment that's sold through a manufacturer's representative network, and serviced and supported by factory-trained service technicians. For more information, please visit www.serescodehumidifiers.com, email sales@serescodehumidifiers.com or call (770) 457-3392.
Contact: Deanna White, Director of Marketing
Seresco USA Inc.
(613) 741-3603
deannawhite@serescodehumidifiers.com
John Parris Frantz
J.P.F. Comm. 
(773) 871-2600 
John@jpfcomm.com