Hurricane Preparedness Includes Planning for Emergency Generator Power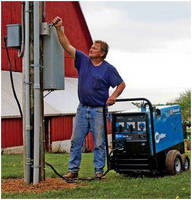 Top 10 reasons why gas welder/generators built to industrial specifications offer the best value for emergency generator power.

Gas welder/generators, shown here connected to a transfer switch for safe operation, can run up to 14 hours before refueling during emergency power situations.

Welder/Generator Key Facts

Available at welding supply distributors.

Up to 12,000 watts of power.

Strong motor starting capabilities, important for central air conditioners.

Designed for continuous operation without overheating.

Run up to 14 hours or more between refueling.

Excellent resale value

APPLETON, Wis.-With Hurricane Earl approaching the Eastern Seaboard, Miller Electric Mfg. Co., the world's largest manufacturer of gasoline engine-driven welder/generators, reminds residents that preparedness plans include considering sources for emergency generator power.

"Emergency power demands at home often require industrial-strength generator solutions," says John Leisner, a product manager with Miller. "The load and motor-starting demands can be high, and the machine may need to run 24/7 for weeks at a time. In situations such as this, welder/generators offer a stronger solution than stand-alone generators." He notes that total generator power requirements increase rapidly as air conditioning and heating needs become critical, especially for the very young and elderly.

Availability, Industrial Design

According to Leisner, the top reasons to buy a welder/generator vs. a stand-alone generator are as follows:

1. Availability. When retail stores run out of generators, welding supply distributors often have them in stock. In fact, within 24 hours of a major power emergency, manufacturers of welder/generators routinely deliver hundreds of extra units to the affected area. To find the distributor nearest you, visit MillerWelds.com or call 1-800-426-4553.

2. Longer run-time. Welder/generators feature a larger fuel tank, so they can run throughout the day or night without refueling. Many hold 12 gallons of gas and can run for 14 hours under a continuous load of 4,000 watts.

3. Total output power. Gas welder/generators provide outputs that typically range from 4,500 watts to 12,000 watts, which may be sufficient to run an average-sized house. To determine how much power you need, use this reference wattage guide.

4. Strong motor starting capabilities. Some electrical loads require three to seven times more power to start than to run. Some generators may boast a high starting (or "peak") power, but their peak power duration is so short that it cannot start a motor. When evaluating generator power, look for machines that can that deliver peak power for a truly useful time. A minimum of 30 seconds is a good standard for dealing maximum generator loads, such as starting the motor of a central air conditioner or sump pump.

5. "Stiff" voltage output. Because they are designed to run industrial tools and motors, top-of-the-line welder/generators provide a "stiff voltage output" that won't droop under rated loads, which prevents overheating.

6. Smooth power output. Welder/generators deliver smooth power, not "spiked" power. This means that they can run electronics sensitive to voltage variations, which may include furnace and A/C controls.

7. 24/7 operation. Industrial welder/generators use heavy-duty components so they can continuously operate at rated loads, stopping only for refueling and scheduled maintenance. In situations that cause other generators to overheat and "burn out" inside their components, industrial welder/generators keep on running.

8. High ambient temperature performance. Due to the inherent nature of electricity, a generator's output power declines as temperature increases. Miller rates the output of all of its welder/generators at 104° F (40° C). Even in hot summer conditions, they deliver all of the power promised.

9. Resale value. Industrial gas welder/generators hold their value very well; some have an average annual decline in value of just a few percentage points. If you purchase one for an emergency situation and decide to sell it at later date, you can get a good majority of your investment back.

10. "Free" welder. Comparing welder/generators to stand-alone generators with engines of similar quality and horsepower (such as those from Kohler and Subaru) welder/generators provide equal or better generator power capabilities at the same or lower price. Their welding output capabilities essentially come "free" with the generator power.

More from Materials