Hollaender® Tackles Handrail Corrosion Problems at Louisiana Football Stadiums with New Interna-Rail®, Color Coordinated System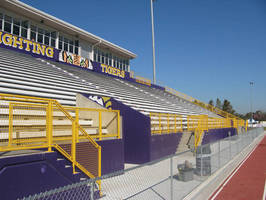 CINCINNATI, OH - Louisiana's St. Charles Parish recently replaced deteriorating steel handrail systems in two of its high school football stadiums with sleek new Interna-Rail handrail systems from Hollaender Manufacturing.

Interna-Rail is an in-line, fitting based handrail system designed to combine the clean look of welded rail with all the benefits of a mechanical system. Interna-Rail systems can be designed to meet any building code and are being used throughout the world in architectural, public works, and stadium applications. The railing system frame is manufactured with 6005A-T5 aluminum alloy and anodized to architectural Class 1 standards, ensuring maximum corrosion resistance.

Steel infill panels installed with the systems are coated using Hollaender's two-coat corrosion resistant process, with a primer layer of Powercron 8000 electrocoat, and a top layer of AAMA 2604 TGIC polyester powder coat.

Both stadiums were originally constructed with concrete foundations and steel handrail systems. Time and weather had taken its toll and the steel was corroding rapidly. The architect chosen to upgrade the stadiums chose Hollaender's aluminum Interna-Rail with welded wire mesh infill panels to replace the aging steel handrail system. The Hollaender system was chosen for it's inherent corrision resistance, cost-effectiveness and ease of installation, as well as its modern and striking appearance.

All Interna-Rail components were powder coated to match each school's colors, with the result being a very clean, coordinated and architectural appearance. The new system complies with all IBC norms.

About Hollaender Manufacturing
Hollaender is a manufacturer and marketer of aluminum structural pipe fittings, aluminum pipe, and infill panels, as well as final assemblies that use these components. These components are used in the design and building of handrail, guardrail and safety rail systems as well as a wide variety of unique modular pipe and fitting based structures for commercial, residential, public works and industrial applications, as well for retail store fixtures and other structural applications. Hollaender also offers consultation, design, and project management services.

More from Fasteners & Hardware