High Speed, Low Profile Linear Motion Systems Are Easy to Install and Low Cost!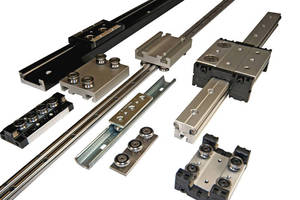 E. Longmeadow, MA - Low cost, linear motion systems from LM76, feature high speed travel to 10 m/sec (32.8 ft.), acceleration to 50 M/sec² (164 ft/sec²) and high load capability to 5600 N (1259 lbs.). Designers can select from 5 low profile linear motion systems for easy integration into manufacturing and processing equipment, and OEM Products.

Easy to install linear systems such as the SG, OSG, and EL300B parallel shaft linear systems are lightweight, feature RC60 shafting, low friction, lubricated and sealed-for-life rollers, and adjustable preload. These low cost, precision dual rail systems can be mounted horizontally, or vertically. SG linear motion systems are available in lengths to 3962 mm (13 ft.) 7 rail sizes and 21 rolling block sizes and configurations. The OSG systems are available in 4 rail and rolling block sizes. Felt wipers are an available option. The very stable, wide base EL300B liner motion system is available in lengths to 3000 mm (9.8 ft.).

The low profile LRBS (single shaft) & LRBT (twin shaft) linear rail systems offer high speed, high stiffness and adjustable preload. The single and twin shaft rails are predrilled for direct mounting and the rolling blocks have predrilled holes and "T" slots. The Defender Rail also features adjustable preload, is available in lengths to 3120 mm (10.2 ft.) in stainless steel or lower cost zinc plated steel.

LM76 manufacturers a broad variety of FDA & USDA compliant bearings and shafting, in inch sizes of .25 inches to 1.5 inches, and a FDA & USDA compliant profile rail and slide systems that can easily be integrated into new and existing applications. The bearing options include: Self-lubricating FDA & USDA compliant Teflon® composite bearings in a 304 stainless steel shell, and lower cost bearings with a ceramic coated shell and FDA & USDA compliant liner. Bearings are available in closed and open configurations, and are drop-in replacements for all inch sized linear ball bearings.

Founded in 1976, LM76 has been a leading designer/manufacturer of linear bearings, slides and linear motion systems. LM76 is renowned for its industry leading Minuteman Teflon® Composite linear bearings. LM76 is a leading supplier of precision linear shafting: RC60, 300 Series Stainless Steel, and ceramic coated aluminum shafting. LM76 also offers several FDA/USDA compliant linear bearings and slides for the food processing, pharmaceutical, medical, and packaging industries.

For additional information contact
Mike Quinn at:
LM76, 140 Industrial Dr.
E. Longmeadow, MA 01028;
Telephone: 413-525-4166,
Fax: 413-525-3735 or
E-Mail: mquinn@lm76.com or
visit the Web site at: www.lm76.com.