High Pressure Air Amplifier Application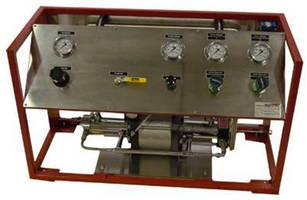 Fairview, PA - December 4, 2008 - Maxpro Technologies announces the availability of a custom designed high pressure air amplifier system used for operating a customer test stand.

The customer requirements were to pressurize small volumes with high pressure air to operate two separate test lines and two independent pressures with one system. In this case Maxpro engineers used a DLE5-15 gas booster, a one gallon, 1,800 psi receiver and two 0-1,500 psig pressure regulators mounted in a carbon steel powder coated frame with a stainless steel front panel.

The unit will boost compressed air into the supplied receiver, and two independent outlet regulators supply air to the customer's test stand. The booster will automatically recharge the receiver as air is used. The flow rate is 1.5 SCFM at 1,000 psig and 50% duty cycle.

Physical size of this unit is 38" x 20" x 16". Lead time for a unit of this type is 3-4 weeks after receipt of order. Cost is approximately $10,000.00.

Maxpro Technologies is the North American distributor of Maximator high pressure valves, fittings and tubing as well as power products including liquid pumps, gas boosters and air amplifiers. Maxpro also designs and manufactures various pressure systems utilizing these Maximator products as the main power source.

For more information, visit our website at www.maxprotech.com, or contact us at: MAXPRO Technologies, 7728 Klier Drive South, Fairview, PA 16415 Phone 814-474-9191, Fax 814-474-9391.


More from Electrical Equipment & Systems