High-Impact Nylon 6 for Industrial Hammer Tips Endures Rugged Metal-Pounding Use While Bypassing Lengthy Post-Molding Step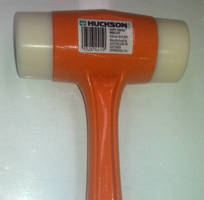 Custom Molder Austmould Uses Chemlon® 280 Nylon 6 from Teknor Apex Asia Pacific to Produce the Tips for Hammers that Must Absorb the Shock of Repeated Blows



MOORABBIN, VICTORIA, AUSTRALIA - A toughened nylon 6 compound from Teknor Apex Asia Pacific Pte Ltd. has enabled custom molder Austmould Pty Ltd. to injection mold tips for industrial deadblow hammers that withstand rigorous impact testing even in their largest sizes and without need for a lengthy post-mold conditioning in water.



Used in a many metal-working shops, deadblow hammers have tips that prevent damage to parts by absorbing the shock of the blow, while producing less noise than metal-tipped hammers and generating no sparks. Austmould produces 25-, 38-, 50-, and 60-mm diameter nylon 6 tips for a customer's range of cast aluminum hammers. When the customer reported that some hammers with the largest tips were failing to pass its internal impact tests, Austmould consulted with Teknor Apex Asia Pacific and its distributor in Australia, TCL Hofmann.



Chong Seow Mui, Teknor Apex Asia Pacific sales manager, recommended substantially increasing the impact resistance of the hammer tips by switching to Chemlon® 280 nylon 6 compound, whose notched Izod impact strength at room temperature (23 ºC) is 1,200 J/m—more than six times greater than the nylon 6 material Austmould had been using. The Chemlon 280 compound passed molding trials at Austmould on both its small and large injection machines, and even the largest tips easily passed the customer's impact test.  



"The larger the deadblow hammer, the more massive the impact forces it must endure," said Timothy Stanton, production manager at Austmould. "The solution provided by Teknor Apex has assured that our hammer tips are unbreakable even in extremely vigorous testing, and we can now condition the hammer tips in air instead of requiring a lengthy conditioning step in water."



Conditioning, a post-molding process commonly used with nylon 6 products, involves exposing the parts to moisture, absorption of which can increase impact resistance. "When Austmould first consulted with us about the test failures, they were concerned about the possibility of incorrect molding parameters or improper post-mold conditioning," said Nick Hayhurst, TCL Hofmann's business manager for polymers. "The change to a compound with much greater impact strength did away with those concerns."



Manufactured at the Teknor Apex Asia Pacific facility in Singapore, the Chemlon 280 compound used by Austmould was originally developed by Teknor Apex in the USA, noted Elliott Pritikin, senior marketing manager for Teknor Apex Asia Pacific. "Our corporate commitment to full technology transfer has made it possible to source precisely the same compounds from Teknor Apex manufacturing locations in Asia, Europe, and North America," said Mr. Pritikin.



Austmould Pty Ltd. is located in Moorabbin, Victoria, Australia. Tel: 61-3-9555-8251. Email:

[email protected]

.



TCL Hofmann is headquartered in Braeside, Victoria, Australia. Tel: 61-03-8586-2900. Email:

[email protected]

. Visit www.tclhofmann.com.au.



TEKNOR APEX ASIA PACIFIC PTE LTD. is headquartered at 41 Shipyard Road, Singapore 628134.  Tel: +65-6265-2544.  Fax: +65-6265-1821.  Email: [email protected]. Teknor Apex Asia Pacific operates manufacturing and development centers in Singapore and Suzhou, China with commercial and technical offices throughout the Asia Pacific region. 



Headquartered in Pawtucket, Rhode Island, U.S.A., Teknor Apex Company is an international supplier to the appliance, automotive, consumer, construction, medical device, packaging, wire and cable, and other industries. Parent company Teknor Apex operates manufacturing facilities around the world and sells in 90 countries. Six of the eight Teknor Apex business units focus on plastics compounding, including bioplastics; color concentrates; nylon; thermoplastic elastomers; toll and specialty compounds; and vinyl. Visit www.teknorapex.asia.