Having Problems with Your Existing Injection Molded Products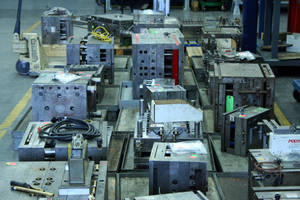 The good news is that the economy is recovering and domestic production is on the rise. The bad news is that your injection molder may not be providing the service you deserve. It's times like these that you need your production partner to be at the top of their game and supply you with top notch products on your timeline. It's times like these you need to consider tool transfer. It's times like these when you can count on Crescent Industries, Inc.

With over 65 years in the business, employee-owned Crescent Industries will contribute significantly to your success by building a long-term relationship with you and your company.

Injection Molding

Crescent's injection molding facility is 50,000 square feet of precision hydraulic and electric computerized machinery. The attending staff, trained in Scientific Molding principles with certification from RJG & Global Standards for Plastic Certification, treats every order as if it were their own, because it is. Crescent's team of trained and certified professionals can optimize any production process to consistently produce quality components.

When you make a big switch in manufacturing it should be a so smooth you only notice the increase in quality, attention to detail and timeliness. The professionals at Crescent Industries will go above and beyond to make you tool transfer painless.

Personalized Service

The Crescent industries staff will work tirelessly to achieve your satisfaction with your tool transfer by ensuring high quality standards from concept through manufacturing.

o Design of Experiment

o Complete Process Validation

o Production Realization Process

o Validated ERP System

o FMEA

o Capabilities Studies

o Develop Custom Control Protocols

o Achieve dock-to-stock status with clients

Look at the list of Quality Certifications collected by Crescent www.crescentind.com/crescent_industries_quality.html.

Quality Policy

Crescent's employee-owners are dedicated to customer satisfaction and are proud of it. The Crescent Industries team is committed to communicating with clients and involving them in every aspect of the manufacturing process. Their high expectations of excellence and their commitment to sustainability and employee responsibility are anchored in the company's Objectives and contribute to their maintaining a competitive edge.

Switching to Crescent Industries by making a tool transfer could be the smartest business decision you make this year. For information please visit our website www.crescentind.com or call 1-800-411-3844.


More from Materials