Hardinge Partners with Technitron for Rotary Table Interfacing and Installation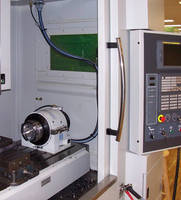 Hardinge (Elmira, New York) manufactures enhanced gear-driven rotary tables and indexers along with leading edge direct-drive rotary products. Hardinge rotary products are of a universal design for compatibility with any brand of machining center and can be run with a servo control box or as a 4th-axis interface. Hardinge is partnering with Technitron Inc. for their expertise in rotary interfacing with most brands of machine tools with Fanuc, Mitsubishi, Yasnac and Siemens controls for both new machine orders and existing machines. Hardinge will continue to install their rotary products on their own brand of Bridgeport® machining centers.

Technitron, (Cincinnati, Ohio) supplies complete turnkey installations and custom interfacing services for Hardinge 4th-axis rotary tables and indexers. They have experience in 4th-axis and dual-axis tables and indexers for vertical and horizontal machining centers including machines with linear and rotary pallet shuttles. "Their knowledge and expertise with non-Hardinge brand machine tools and various CNC controls will expedite the quoting process, delivery and installation for 4th-axis rotary applications here in North America," states Mike Levanduski, Director of Sales at Hardinge Workholding.

Hardinge has rotary solutions for high-speed applications including drill & tap, high-speed machining and laser processing. Hardinge's direct-drive technology offers zero backlash for rapid bidirectional movement to provide cycle time reduction with high accuracy and repeatability. Their standard single axis gear-driven indexers provide flexible gripping options for rugged machining applications. Hardinge also manufactures dual-axis indexers and plate & cube trunnion products for multiple part setups. Hardinge rotary products can be purchased direct from Hardinge or from Technitron. For more information call Hardinge at 800-510-3161, or contact Mike Ortman at Technitron at 513-531-2926.

See us at www.shophardinge.com and hardingeworkholding.wordpress.com.

The Hardinge Group also includes Bridgeport, Hauser, Kellenberger, Tripet, and Tschudin brands. Founded nearly 120 years ago, Hardinge is a global leader in providing turning, milling, grinding and workholding solutions to meet a wide array of market needs. The company's common stock trades on NASDAQ under the symbol HDNG, and is headquartered in Elmira, New York.

More from Architectural & Civil Engineering Products