Hardinge Is Right on Target for Ammunition, Firearm, Optical Lens, and Paintball Gun Manufacturing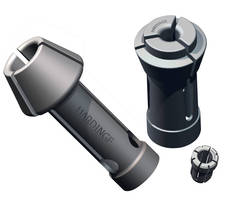 Many Hardinge employees enjoy the sport of hunting and competitive target shooting and take pride in bringing these high precision products to market. While Hardinge doesn't manufacture the bullets, they do make collets and machines used for turning the bullets, trimming bullet jackets, grooving the shanks of the cartridges or crimping the cartridge to the bullet. Solid brass bullets can be turned on a lathe. When bullet jackets and cartridges are punched and formed in a swaging process they may be trimmed and grooved using a lathe or other specialty machines.

Traditional bullet jackets are made of copper or gilding metal, an alloy of copper and zinc. Other materials used in bullets today include aluminum, bismuth, bronze, copper, plastics, rubber, steel, tin, and tungsten. Hardinge provides custom collets with micro finishes and critical radii to prevent marking of the soft materials that are being used. Hardinge supplies off-the-shelf and custom collets for firearm, ammunition, optic and paintball gun manufacturers worldwide. Collets hold barrels, firing pins, trigger mechanisms, optical lenses, bullet jackets and cartridges.

The push-to-close style collet and stationary collet will grip a cartridge for either trimming to length or forming of the extractor groove. The smaller double-angle Erickson-style collet grips a bullet jacket for trimming to length.

Drawings and sample parts can be sent to Hardinge Inc., One Hardinge Drive, Elmira, New York 14902; email to info@hardinge.com; fax 607-737-0090; or phone 800-843-8801. Hardinge is a pre-approved government vendor.


More from Packaging Products & Equipment