Handheld XRF Instrument Supports The Healthcare Industry Comply with RoHS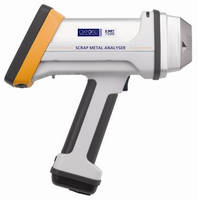 A large global multinational company in the healthcare industry chooses Oxford Instruments handheld XRF instruments for improved quality control and RoHS compliance.

A large major international healthcare organization has decided to be proactive with regards to RoHS compliance, despite the fact that medical devices have been given an exemption until 2014 from RoHS compliance law.

To ensure their products are environmentally friendly by meeting these compliance regulations, while maintaining its reputation of providing its customers with high quality products, the company has chosen a handheld XRF over lab testing. "In our search for the instrument of choice for our operation, handheld XRF was identified as a suitable method that offered the required analytical results with speed and ease of use," the company's spokesperson said.

Oxford Instruments' handheld XRF analyzer X-MET7000 is used to screen incoming components, such as plastics or electronics used in assembling products and auditing the supply chain of the organization in order to meet the demands and to comply with RoHS.

The X-MET7000 displays results using a simple pass/fail scheme. Data can be exported into a customized report, printed or sent electronically for further dispensation. Using the X-MET as a screening tool allows the customer to rapidly test large quantities of samples that could have taken weeks to receive results if sent to outside labs, resulting in reducing costs and freeing the labs to concentrate on truly problematic samples for the major healthcare company.

The healthcare organization states about Oxford Instruments: "We found that the knowledge and support offered us additional value that we could utilize in the implementation of our RoHS program."

Increase productivity and profitability with the X-MET7000 analyzer from Oxford Instruments.

Take a closer look to find out more. Contact us today at industrial@oxinst.com to arrange a demonstration or to request an electronic copy of the case study.


More from Electrical Equipment & Systems