Guards Designed to Protect Horns/Strobes/Speakers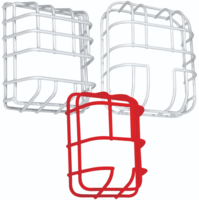 March 9, 2023 – STI's Horn/Strobe/Speaker Damage Stoppers® and Horn/Strobe Damage Stoppers® are designed to help protect important notification appliances.
The Stopper cages are designed to protect Edwards GC Series and Kidde EGC Series ceiling or wall mounted notification appliances, and L Series System Sensor ceiling or wall mounted horn/strobes.
Constructed with 9-gauge steel wire, coated with corrosion resistant red or white polyester, the wire guards are tough against accidental or intentional damage. Guards are recommended for areas where abuse is severe, or it is imperative horns/strobes/speakers continue to operate. All models are UL/cUL Listed.
Installation is fast and simple with the screws and anchors provided. variety of wire cages are also available to protect smoke detectors, emergency lights, exit signs, clocks, and more from vandalism or accidental damage.
For more information on STI Horn/Strobe/Speaker Damage Stopper, STI Horn/Strobe Damage Stopper, or the entire Stopper® Line, call 248-673-9898, email info@sti-usa.com or visit www.sti-usa.com. STI's address is: 2306 Airport Road, Waterford, MI 48327-1209.