Grayhill Highlights Series 62 Optical Encoders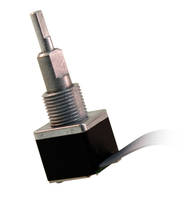 Cost-effective, long-lived optical encoder available in a range of design options
LaGrange, IL – Grayhill, Inc. highlights the availability of the Series 62AG, 62NG and 62SG Optical Encoders, which feature optical switching technology for exceptionally high operational life, and provide excellent tactile feedback to the user. The Series 62AG, 62NG and 62SG encoders deliver significant advantages over other switch technologies in healthcare electronics, communication systems, navigation devices, precision test and measuring equipment, sound editing consoles, and automotive applications.
Grayhill encoders lead the industry in: reducing shaft wobble; durability, including side load, impact load, and pull out strength; life rating; switch haptics, such as torque consistency; and seal integrity. Cost engineered with a single PCB assembly and patented Light Pipe design, the Series 62AG, 62NG and 62SG encoders are high-quality components for a wide range of applications.
Output options include absolute or quadrature 2-bit binary code. Custom shaft and threaded bushing sizes are available, as well as other customized features such as detents and tactile feel, termination and cabling, and mounts.
About Grayhill
Grayhill, Inc. is a privately held firm which designs and manufacturers intuitive human interface solutions that make life simpler, safer and more efficient. Standard products include optical and hall effect encoders, discrete and hall effect joysticks, rotary switches, keypads, and pushbuttons; all with finely tuned haptics. Grayhill specializes in creating ergonomic panels and product shells that integrate various interface technologies, including displays, our components, and gesture recognizing multi-touch technology. With headquarters in La Grange, Illinois, and multiple state-of-the-art facilities around the world, Grayhill's team has the full engineering, product development and manufacturing expertise to deliver both standard and customized products quickly and cost-effectively. To learn more about Grayhill's products and capabilities, visit www.grayhill.com or email info@grayhill.com.
More from Controls & Controllers