GF Machining Solutions Presents on Laser Texturing at 2014 Automotive Cockpits Conference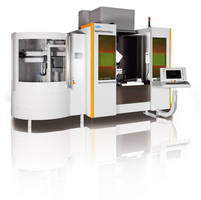 LINCOLNSHIRE, Ill. – GF Machining Solutions, a leading provider of machine tools and automation solutions, was one of 12 companies asked to present on the latest products and technology developments for vehicle interior manufacturing at the 14th Annual Automotive Cockpits Conference. The event, hosted by the ITB Group, a consulting firm that serves the global automotive market, took place earlier this month in Birmingham, Michigan.



Surface texture, an important aspect of product design within the automotive industry, was a key topic of discussion at the conference, and one that Chad Hase, laser project manager for GF Machining Solutions, addressed in great detail.   



Manufacturers of vehicle interior components, such as dashboards, steering wheels and instrument panels, have traditionally relied on chemical etching to produce surface textures on these parts. However, advanced laser texturing technology, as discussed by Hase, is rapidly becoming the preferred method for surface texturing, as it is faster, quieter and more repeatable, flexible and environmentally friendly than chemical etching. Laser texturing technology uses pulsed, fiber-optic lasers of varying strengths and a variety of lenses with different focal lengths to sublimate material, or turn it directly from a solid to gas.



In fact, with laser texturing, automotive part manufacturers are able to produce 2D and 3D details from a high-quality digital image, allowing completely reproducible results for specific textures, engravings, marks or labels. This opens the door for greater legal protection of innovative designs. The lack of repeatable results with chemical etching renders the process unable to create textures that manufacturers could submit for patent protection. Laser texturing overcomes this hurdle, allowing manufacturers to create and protect surfaces that result in a unique appearance and feel in the final product.



GF Machining Solutions currently offers four of the most innovative laser texturing machines in the manufacturing industry. These machines consist of the  LASER 600, LASER 1000, LASER 1200 and LASER 4000, covering maximum workpiece dimensions that range from 5.9" x 5.9" x 5.9" all the way up to 98.4" x 59" x 35.4". While all of these models are available as 5-axis machines, the LASER 600 and LASER 1000 also come in 3-axis versions. 



"As makers of vehicle interior components look to gain a competitive edge in today's fast-changing automotive world, they rely on our laser surface texturing technology and expertise to help them accelerate their potential," said Hase. "Our highly accurate laser texturing machines give them full control down to the tiniest of details across challenging geometries, freeing them to execute intricate part surface designs that capture consumers' interests."



About GF Machining Solutions

GF Machining Solutions is the world's leading provider of machines, automation solutions and services to the tool and mold making industry and to manufacturers of precision components. The products range from electric discharge machines, high-speed and high-performance milling machines, including clamping and palletization systems, and 3D Laser surface texturing machines, to services, spare parts and expendable parts, consumables and automation solutions. As a globally active group, GF Machining Solutions, a Division of Georg Fischer Group (Switzerland), maintains a presence on 50 sites worldwide within its own organization. Its 2,873 employees generated sales of CHF 867 million in 2013. For more information on the company's products and services, contact Gisbert Ledvon at GF Machining Solutions, 560 Bond St., Lincolnshire, IL 60069-4224, Tel: 1-800-282-1336, Fax: 847-913-5340, Email: gisbert.ledvon@georgfischer.com, or visit www.gfms.com/us.

More from Electrical Equipment & Systems