Genesys™ 3U 10kW and 15kW Programmable Power Supply Series has CE Mark along with RoHS 2 Compliance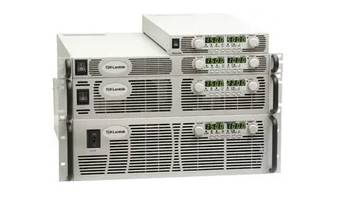 TDK Corporation announces that all models of the TDK-Lambda Genesys™ 3U AC/DC Programmable Power Supply Series are RoHS 2 compliant with most models bearing the CE Mark (as outlined in the Table below) along with a Declaration of Conformity (D-of-C), which can be found in the TDK-Lambda Genesys™ 3U User's Manuals.
Carrying a five-year warranty, the TDK-Lambda Genesys™ 3U AC/DC Programmable Power Supply Series models have the same front panel features and compact dimensions (3U (133mm) high and 19" (483mm) wide) with Output voltages ranging from 7.5V (@ 1000A) to 1500V (@ 10A).
CE marked in accordance with the Low Voltage Directive, the TDK-Lambda Genesys™ 3U AC/DC Programmable Power Supply Series conforms to Conducted and Radiated EMI in accordance with EN55011A and FCC Part 15J-A.
Safety agency approvals include UL/cUL 60950-1 and EN60950-1.
More information can be obtained at the following TDK-Lambda Americas website, https://www.us.lambda.tdk.com/products/programmable-power/genesys.html, or by calling 800-LAMBDA-4.
Main Features and Benefits
Wide AC Input Voltage range for three-phase 208VAC, 400VAC and 480VAC Input.
High Power Factor (0.88 for Vout < 600V; 0.93 for Vout > 600V).
High Efficiency ( > 77% for Vout < 30V, > 88% for 30V < Vout < 600V, > 93.5% for Vout > 600V).
Fast Up/Down Programming Response Time (100ms/50ms for Vout < 600V, 17ms / 20ms for Vout > 600V).
Multi-functional Front Panel display: (Set Voltage/Current PREVIEW limits (Coarse and Fine), Set OVP/UVL limits (Coarse and Fine), Set Current FOLDback limit (Coarse and Fine), Set Advanced Parallel configuration, Go-to-Local, Set unit Address/Baud rate, Output ON/OFF, Safe/Auto Re-Start, Front Panel Lockout, Last Setting Memory.
Built-In Protective functions (OVP, UVL, FOLD, OTP, AC-FAIL).
Output Isolation to 600V for Vout < 600V; to 1500V for Vout > 600V.
Single-Wire (Vout < 30V) and Two-Wire (Vout > 30V) "Basic" and "Advanced" Parallel current share for up to 40kW/60kW total Output power.
Built-in RS-232/RS-485 Multi-Drop Digital Interface and J1 Remote Analog 5V/10V Program/Monitor Interface (Isolated to 600V for Vout < 600V; Isolated to 1500V for Vout > 600V).
Optional LAN (LXI certified), GPIB (IEEE) and Isolated-Analog (5V/10V & 4-20mA) Programming interfaces.
Rack-mount with provision for chassis slides; Zero-stacking for maximum power density.
Cooling Fan speed control (for reduced audible noise and longer life): Vout > 30V.
Light weight: < 97lbs (43kg) for Vout < 600V / < 70lbs (32kg) for Vout > 600V.
Dimensions: 5.25"/133mm: Height-3U x 19.00"/483mm: Width x 22.85"/581mm: Length
About TDK Corporation
TDK Corporation is a leading electronics company based in Tokyo, Japan. It was established in 1935 to commercialize ferrite, a key material in electronic and magnetic products. TDK's portfolio includes electronic components, modules and systems* which are marketed under the product brands TDK and EPCOS, power supplies, magnetic application products as well as energy devices, flash memory application devices, and others. TDK focuses on demanding markets in the areas of information and communication technology and consumer, automotive and industrial electronics. The company has a network of design and manufacturing locations and sales offices in Asia, Europe, and in North and South America. In fiscal 2014, TDK posted total sales of USD 9.6 billion and employed about 83,000 people worldwide.
* The product portfolio includes ceramic, aluminum electrolytic and film capacitors, ferrites, inductors, high-frequency components such as surface acoustic wave (SAW) filter products and modules, piezo and protection components, and sensors.
About TDK-Lambda Corporation
TDK-Lambda Corporation, a group company of TDK Corporation, is a leading global power supply company providing highly reliable power supplies for industrial equipment worldwide. TDK-Lambda Corporation meets the various needs of customers with our entire range of activities, from research and development through to manufacturing, sales, and service with bases in five key areas, covering Japan, Europe, America, China, and Asia.
For more details, please pay a visit to http://www.tdk-lambda.com/
Contact For Media:
Tom Goodman
TDK-Lambda Americas
+1-732-922-9300
tom.goodman@us.tdk-lambda.com