Frit Ink for Robust Graphics on Glass Ideal for Harsh Environmental Conditions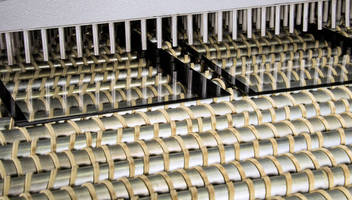 Santa Paula, CA – Abrisa Technologies screen prints glass with high durability frit ink for harsh environment applications such as marine display/cluster gauges where corrosive salt spray and fog are a continuous threat. The frit inks are also well-suited to other severe outdoor environments where organic inks may degrade and impede performance.



The frit itself is made up of three parts, helping the adhesion of the ink to the glass substrate during the heat tempering process, creating a permanent and environmentally rigorous screen print. The fritted graphics essentially become part of the glass itself. The frit ink composition is made up of colored glass/ceramic frit particles, a resin that holds the frit in place prior to the firing/tempering process, and a liquid/chemical medium that allows the ink to be applied.



The frit ink can be applied to clear, etched, tinted or patterned glass substrates. The glass is then elevated in temperature in a tempering oven to fuse the glass to the ceramic ink.



According to Jacky Vel, Vice President of Sales and Marketing, "Screen printing with ceramic frit ink vs. epoxy offers our customers many benefits. Chief among these are that moisture, oil, soaps, chemicals and detergents will not impact the screen print integrity." She further states, "The frit screen printed graphics are scratch and abrasion resistant, and will retain their original appearance throughout the life of the glass. Once applied, the frit will meet operating temperatures similar to the glass substrate itself whether it be SCHOTT Borofloat® or soda lime glass."



Frit ink is available in black and white as standard, with custom Pantone match colors available. The minimum glass thickness for applying frit is 3mm (0.118") and the maximum thickness of the glass is 25.4mm (1"). The minimum glass dimension is 1" x 1" and maximum glass dimension is 24" x 24". Printed feature resolution for fritted graphics can be as fine as 0.305mm (0.012").



All screen printing at Abrisa Technologies is performed on either a semi-automatic or automated printer within a Class 1,000 or 10,000 cleanroom. The platform selected is dependent upon specification requirements.



Abrisa Technologies is a recognized global supplier of high quality, fabricated glass components, optical thin film coatings, and custom glass solutions for a wide variety of industries. From our US based Abrisa Industrial Glass fabrication facility in Santa Paula, CA and our ZCR Coatings for Optics division in Torrance, CA we serve diverse industries such as microelectronics and displays, semiconductor, military, automotive, aerospace, medical, biomedical and scientific RD. We provide custom specialty flat glass and coating products for applications such as: flat panel display, touch and gesture recognition; visible to IR imaging and surveillance; entertainment, indoor and outdoor lighting; advanced instrumentation; and photonics.



Contact us at www.abrisatechnologies.com for more information.



More from Thermal & Heating Equipment