Foamlinx LLC Introduces Custom Made CNC Routers for 3D Foam Props Modeling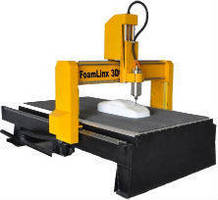 Foamlinx LLC, a designer and manufacturer of CNC hot wire foam cutting machines launches custom-made CNC router systems for machining 3D foam models, props, sculptures, monuments, architectural shapes, displays and more.

In response to a growing market demand for foam machining to create props, Foamlinx LLC based in Sunnyvale, CA has extended and developed its line of CNC routers to include almost any size, from only few inches of working area all the way up to 30 feet routers in length.

Each router uses a spindle that is the motor doing the actual cutting. Foamlinx Router's spindles range from 1HP (horse power) to 20HP and above, and they can hold end mills (the driller) from 1/16" all the way to 2" and above. Combos are also available - Combination of custom-made CNC hot wire foam cutters with CNC routers.

Foamlinx routers provide the solution businesses are seeking when looking to manufacture any 3D foam shape, model or design. Using CNC hot wire foam cutters provide 2D foam shapes that only requires flat surface, while the CNC Routers are used to machine three dimensional projects. The machines are 3-axis, which means they move in a 3D space diagonally and in curves, in motions that resemble milling or carving. The router can create 3D designs from numerous types of material, including: EPS foam, urethane foam, aluminum, light wood, acrylics, plastics and polycarbonate, ABS.

Foamlinx routers apply to numerous industries, including:

Automotive - Full scale cars, boats, planes

Aerospace - UAVs models

Architectural - Any 3D architectural shapes

Fine Art, sculptures, statues

Marine - Boats, ships models

Museums - 3D displays, faces, statues

Navigation - Topographic maps

Foamlinx machines pricing is extremely competitive, and discounts are available in ordering more than a single machine. "We first listen to our customers, then building a machine and tailoring it to each and every customer, according to their specifications and requirements. Our company prides itself with having great customer support. We always put our customers first, while providing lifetime online and telephone support," said Tal Barnea, owner of Foamlinx LLC (http://www.foamlinx.com).

The shapes that can be created with a router are almost unlimited. Any 3D model, from small to big and up to full scale can be made using Foamlinx routers. Foamlinx has recently machined a full scale 1937 Renault truck for a Canadian museum. The truck is 16 feet in length and 6 feet high. Any design that seems too large or too thick to be machined due to height or cutter length restrictions can be sliced into sections. Each slice will be machined separately using the router and then the pieces can be glued together. The machined parts can then be sanded and coated with protective hard shell and painted. Foamlinx Routers can also be used to create molds that can later be poured with concrete, polyurethane, or other casting materials.