First USA-based Sale of The Truepress Jet L350UV SAI Series Sold to Lion Labels; Printer Turned to SCREEN Americas to Increase Capacity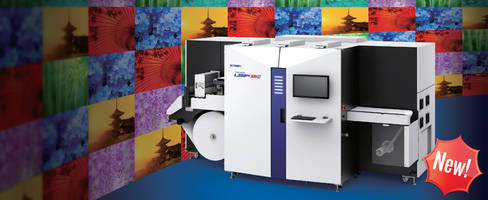 Rolling Meadows, Illinois—SCREEN Americas announces the very first sale of its Truepress Jet L350UV SAI in the United States to Lion Labels, Inc. of South Easton, Massachusetts. Just as the Truepress Jet L350UV series was developed by SCREEN to meet the label industry's growing need for high-quality, short-run printing, the most recent iteration, the Truepress Jet L350UV SAI, served as a complement to Lion Labels' existing technology which included a digital toner-based press and conventional flexographic presses. With the purchase of a UV inkjet label press from SCREEN, Lion Labels aspires to grow its business with quicker turnaround times.
Upon completion of the first sale in the United States, SCREEN Americas is on its way to establishing significant credibility in the label market. Printers such as Lion Labels who are serving the food and beverage industry need a label press that offers superior color reproduction at a high speed. The food and beverage industry, in particular, has seen an increase in demand due to the pandemic as more and more people stock up on these specific items.
Prior to the purchase, SCREEN Americas hosted Lion Labels at its facility in Rolling Meadows, Illinois, so that its pressroom operators and managers could operate the technology as well as examine some samples of the finished product. "Having more options in its portfolio will lead to the increased capacity that Lion Labels is looking for," said Anton Kotesky, retail sales manager for SCREEN Americas' packaging division and the gentleman who presented the solution to Lion Labels. "It's all about fitting the right job with the right press. Lion Labels will be able to increase its productivity by taking on additional jobs that the Truepress Jet L350UV SAI would be suitable for."
The correct fit is not just limited to the right job with the right press where the Truepress Jet L350UV SAI is concerned. The press is uniquely designed so that it can physically accommodate more pressrooms in terms of available space. SCREEN's engineers work closely with their global counterparts to ensure that they are meeting the specific needs of their customers around the world. SCREEN recognizes that packaging the technology can be as important as the technology itself.
This is Lion Labels' first investment with SCREEN Americas. The two companies look forward to their continued partnership.
About SCREEN Americas
SCREEN Americas, a SCREEN Graphic Solutions group company established in 1967, is a leading provider of digital inkjet technology serving the commercial print, publishing, direct mail, transactional, packaging, folding carton and label industries. The company plans to relocate its headquarters to Elk Grove Village, Illinois, in February 2021.
About Lion Labels, Inc.
Lion Labels, Inc. is a family-owned business providing label solutions for various industries including food and beverage, health and beauty, chemical and industrial, jewelry, nutraceuticals and beyond. Its operations include digital and flexographic technology allowing the company to accommodate both short- and long-run job requests. Lion Labels has been in business for more than 50 years and is based in South Easton, Massachusetts.
Contact:
Mark Schlimme
Vice President of Marketing
SCREEN Americas
[email protected]
(847) 909-8435