FieldServer Technologies' QuickServer BAS Gateways Awarded BTL Mark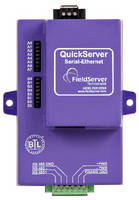 FieldServer Technologies' QuickServer Building Automation gateway has received a
BTL Mark under device profile B-ASC. This is the first fully-configurable building automation gateway to be BTL certified.

BACnet International BACnet Testing Laboratory (BTL) certification is the highest level of BACnet conformance tests available for BACnet products. Products that are BTL certified are viewed by the BACnet community as the highest quality and most reliable products on the market today.

QuickServer utilizes the same proven technology that has made FieldServer the leading gateway in the building automation industry. This easy-to-use gateway can interface up to 250 points utilizing BACnet/IP, BACnet MS/TP, LonWorks, JCI Metasys N2, Modbus TCP, Modbus RTU and SNMP. Integrators and users have trusted FieldServer for over 10 years to provide the interoperability they desire in buildings worldwide. The QuickServer continues to provide the user with the trusted FieldServer support they have always found at FieldServer.

About FieldServer Technologies and ProtoCessor

FieldServer Technologies, a wholly owned division of Sierra Monitor Corporation (OTC BB: SRMC.OB) based in California, designs and markets a broad line of devices that enhance communication between various instruments, systems, machines and other devices that utilize non-compatible data protocols. The FieldServer combined with the extensive driver library makes the perfect package to achieve interoperability. Drivers included in this library are Modbus, LonWorks, BACnet, Metasys, Allen Bradley EtherNet/IP, plus drivers for fire alarm panels, controllers, and many other proprietary and legacy devices.

For more information about FieldServer Technologies, please visit www.fieldserver.com.

More from Laboratory and Research Supplies and Equipment