Felling's FT-16 IT-I Drop Deck Industrial Tilt Equipment Trailer Named to Equipment Today's 2020 Contractor's Top 50 New Products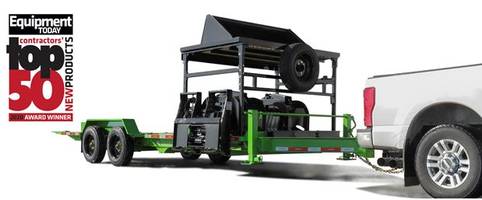 (Sauk Centre, Minnesota, September 17th, 2020) – Equipment Today, the nationally recognized equipment magazine serving commercial construction contractors, has selected the FT-16 IT-I drop deck industrial tilt equipment trailer as one of the favored new construction products of 2020.
The editorial teams from Equipment Today and ForConstructionPros.com compiled product inquiries and web page views from new products featured in Equipment Today over a 12-month period from May 2019 to April 2020. Winning products represent the leading edge of innovation, quality, efficiency, and productivity in the construction equipment field today.
The FT-16 IT-I is a drop deck tilt trailer with a 5-ft. stationary deck and an 18-ft. tilt deck. The trailer is equipped with a removable attachment rack mounted on the front stationary deck; sitting inside the stake pockets on the trailer's exterior, and is bolted in place. The rack is an ideal pairing with the IT-I tilt trailer, providing ample room to transport a skid steer on the 18' tilt deck, multiple attachments, and various job site tools like shovels and brooms on the rack. The ability to transport all of these job site tools in one trip, safely, and efficiently saves the operator and their crew time and miles.
Functionality and flexibility, the attachment rack has a 54" deck height allowing ample room to transport larger attachments such as grapple forks, trenchers, stump grinders, etc. on the stationary deck below the rack. The top rack provides a generous amount of space, 5' x 81", to transport dirt/snow buckets, tillers, or rollers. Keeping the load secure, the attachment rack has an angle lip on the front, and each side with rub rail and stake pockets, providing the operator several points of securement. Additional storage for shovels/brooms is located on the attachment rack's roadside with three (3) bolt-on tubes. Built strong enough to carry the load, the removable attachment rack offers a capacity of 2,500 lbs.
Felling Model FT-16 IT-I with Attachment Rack
·Auto Tilt Deck Latch Mechanism
·Two 8,000-lb. axles with torsion suspension
·215/75R17.5 tires on plate wheels
·Blackwood rubber infused decking
·Dual cushion cylinder tilt with lock valve
·Twin 12k drop-leg jacks
·Pallet fork holder
·Toolbox with lockable cover in hitch
·Sublime Green Paint
"The products recognized by the annual Contractors' Top 50 New Products awards represent what contractors are seeking most to boost profitability on their construction projects," asserts Becky Schultz, Equipment Today editor. "The high level of interest they generated from Equipment Today readers and visitors to ForConstructionPros.com demonstrates that these are products contractors feel are capable of improving performance, efficiency, and productivity on their job sites."
Additional information on the award recipients can be found in the September issue of Equipment Today and on ForConstructionPros.com.
Pictured Above: Felling Trailers, Inc.'s FT-16 IT-I with removable attachment rack
About Felling Trailers, Inc.
Felling Trailers is a family-owned and operated Full Line Trailer Manufacturer located in Central
Minnesota. Started in 1974, Felling Trailers, Inc. has grown from a small shop to a factory and office complex that today covers over 325,000 square feet. Felling's pride and differentiation is its customized trailer division. Its engineers utilize the latest Industry-leading design techniques, and its experienced metal craftspeople use cutting-edge technology to turn its customers' conceptual trailer needs into a tangible product. Felling has been providing innovative trailer solutions to the transportation industry for over 45 years. Felling Trailers' current capabilities allow them to provide a high-quality product that is distributed across North America and internationally. Felling Trailers, Inc. is an ISO 9001:2015 Quality Management System Certified company, WBENC-Certified WBE company, and an Equal Opportunity Employer.
For more information, contact 1.800.245.2809, sales@felling.com, or visit them on the web at www.felling.com. You can also follow them on Twitter (@FellingTrailers), Facebook (Felling Trailers, Inc.), and Pinterest.
Contact:
Rebecca Gerads, Marketing Coordinator
Company: Felling Trailers, Inc.
Address: 1525 Main Street South
Sauk Centre, MN 56378
Phone: 1.800.245.2809
Fax: 320.352.5230
E-mail: Rebecca.gerads@felling.com
Contact This Company Download Spec Sheet
More from HVAC