Feeling Lucky? Miller Adds Luckys Speed Shop Design to the Elite and Digital Elite Series of Auto-Darkening Welding Helmets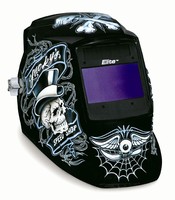 Edgy graphic design features cross-bone pistons, barbed wire and skull design

Available in Millers Elite (MSRP $349) and Digital Elite (MSRP $389) Series

APPLETON, Wis., June 11, 2008 Miller Electric Mfg. Co. today introduces the Luckys Speed Shop design to its Elite and Digital Elite Series of auto-darkening welding helmets. This sleek graphic design comes in a gloss-black finish and features cross-bone pistons and a flying eyeball accented by a spider web. Luckys Speed Shop is inscribed on a tattered ribbon entwined in barbed wire behind a grinning skull with top hat. The features of the Elite and Digital Elite series helmets are ideal for professionals and hobbyists who frequently Stick, MIG, TIG and plasma cut.

The Luckys Speed Shop helmet is available through welding supply distributors in the US and Canada and carry a MSRP of $349 for the Elite and $389 for the Digital Elite Series. Prices will vary by distributor.

We really stretched the limits of our imagination to get the look and feel captured in Luckys Speed Shop. states Tom Sommers, product manager, Miller Electric Mfg. Co. This strong, tough design is backed by the industrial-grade, full-featured lenses the Elite and Digital Elite Series have to offer.

Elite Series - Still The Benchmark

Millers popular Elite Series helmet features four independent arc sensors that respond in 1/20,000 of a second and comes standard with Auto-On/AutoOff and Grind mode.Weighing in at 18 oz., Elite helmets are lightweight and comfortable and come complete with 5 outside and 2 inside replacement cover lenses, a Miller-exclusive fatigue-reducing comfort cushion and helmet bag.

Digital Elite Series - Weld, Cut, Grind by Personal Preference

Building on Millers Elite Series, the Digital Elite series was designed for professional welders demanding control and flexibility. Digital Elite helmets feature the precision of a digital control that allows users to set and store their shade, sensitivity and delay preferences for various applications: Welding shades 8-13, Cutting shades 5-8, Grinding shade 3, and an X-Mode shades 8-13. The X-Mode provides full protection for those instances when there is an arc present, but the sensors are obscured. X-Mode eliminates interference from sunlight and out-of-position welding angles, such as those found in pipe welding or in obstructed or hidden-cavity weldsit also excels at low-amperage TIG welding (5 amps and below).

Miller Auto-Darkening Helmets are covered by a two-year warranty. For more information or to download a product spec sheet, visit Miller's Web site at www.MillerWelds.com, call 1-800-4-A-MILLER (800-426-4553), fax 877-327-8132 or write to Miller Electric Mfg. Co., P.O. Box 100, Lithonia, GA 30058.

Miller Electric Mfg. Co. is a leading worldwide manufacturer of Miller brand arc welding equipment and is a wholly owned subsidiary of Illinois Tool Works Inc. (NYSE: ITW).

More from Cleaning Products & Equipment