Fabrico Offers Poly Roll-Fed Labels for Consumer Product Enhancement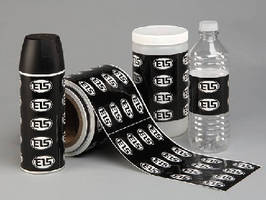 Kennesaw, GA - Fabrico, the leader in design and manufacturing services for flexible materials and bonding, joining, and sealing solutions, announces expanded label printing capabilities to include poly roll-fed labels, popular in the decoration of consumer products.

This first-ever line of product decoration labeling from Fabrico provides customers with a high-quality, roll-fed label solution for consumer market products. Manufacturers are turning to roll-fed labeling to take advantage of increased production efficiencies and cost-savings. Using a variety of films and specialty inks for applications ranging from standard straight-wall aerosol cans to single-serve beverage containers, roll-fed labels offer superior branding and graphics options.

In addition to roll-fed labels, Fabrico also supplies pressure-sensitive labels. Whether applied manually or automatically, in spot or process color, Fabrico has a quality product offering for any customer's product labeling needs.

For more information on Fabrico's label printing capabilities, contact Mark White, Fabrico's Technical Sales Representative and printing specialist, at mwhite@fabrico.com or visit www.fabrico.com/services-printing-poly-roll.htm.

About Fabrico

Fabrico is the market leader in design and manufacturing services for flexible materials. Fabrico has developed a track record of solving unique challenges and providing sound customer solutions. The company offers a wide range of custom fabrication services including product engineering, material sourcing, prototyping, converting, laminating, complex printing, custom die cutting, rotary die cutting, water jet cutting, laser cutting, assembly, and performance packaging. Fabrico is located in Kennesaw, GA, USA and is a division of EIS. More information is available at www.fabrico.com or by calling 800 351-8273.

Fabrico is a trademark of EIS, Inc.

More from Electrical Equipment & Systems