Extend Your Network with NETGEAR WN3000RP Universal WiFi Range Extender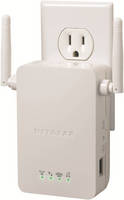 NETGEAR Universal WiFi Range Extender (WN3000RP) Now Available in India for Laptops, Tablets, Smartphones, Home Theater Devices, and More

New Delhi: NETGEAR®, Inc. (NASDAQGM: NTGR), a global networking company that delivers innovative products to consumers, businesses and service providers, today announced that the NETGEAR Universal WiFi Range Extender (WN30000RP), which extends WiFi coverage for any home office or home network, is now available in India.

The NETGEAR Universal WiFi Range Extender effectively doubles the operating distance of your entire wireless network and conveniently avoids additional need for power cables or device clutter on your office desk or home theater. WN3000RP extends your wireless network to include the area outside the range of your existing wireless router by overcoming obstacles and enhancing overall network signal quality, giving you the freedom to roam anywhere in the house and access Internet without worrying about coverage. The product was specifically designed to be plugged into an electrical outlet, and blends in nicely with any surrounding. It is compatible with wireless b/g/n routers, gateways and Internet service provider devices.

Key Features:

o Extend Network - Extend Internet access throughout your home for wireless devices like iPads®, iPods®, laptops, smart phones, game consoles and TVs

o Enhance Existing Equipment - Keep your current equipment and improve coverage to eliminate wireless "dead zones"

o Plug-and-play - Sets up in minutes, no need to insert a CD or plug in Ethernet cables

o Push 'N' Connect - Push 'N' Connect using Wi-Fi Protected Setup® (WPS) connects computers and/or routers to the Extender quickly and securely

o Optimal Coverage - Link-rate LED locates the best placement spot to provide optimal wireless coverage

o Compatible - Works with any wireless b/g/n router or gateway from NETGEAR and other brands

o Superior Security - Works with all security standards including WPA-PSK, WPA2-PSK, mixed mode and WEP

o Connect - Ethernet port allows the Extender to function as a bridge to connect to home theater devices

o NETGEAR Green features - Power on/off button, 80% recycled packaging

Pricing and Availability

Available with the authorized distributors in India, the NETGEAR Universal WiFi Range Extender (WN3000RP) is priced at MRP Rs. 4700/-. For more information, please visit: www.netgear.com/home/products/wireless-range-extenders/WN3000RP.aspx.

To learn more about other new NETGEAR consumer products and services, please visit www.netgear.com.

About NETGEAR,Inc.

NETGEAR (NASDAQGM: NTGR - News) is a global networking company that delivers innovative products to consumers, businesses and service providers. For consumers, the company makes high performance, dependable and easy to use home networking, storage and digital media products to connect people with the Internet and their content and devices. For businesses, NETGEAR provides networking, storage and security solutions without the cost and complexity of big IT. The company also supplies top service providers with retail proven, whole home solutions for their customers. NETGEAR products are built on a variety of proven technologies such as wireless, Ethernet and powerline, with a focus on reliability and ease-of-use. NETGEAR products are sold in approximately 28,000 retail locations around the globe, and through more than 37,000 value-added resellers. The company's headquarters are in San Jose, Calif. , with additional offices in 25 countries. NETGEAR is an ENERGY STAR® partner. More information is available at www.NETGEAR.com or by calling (408) 907-8000. Connect with NETGEAR at twitter.com/NETGEAR and http://www.facebook.com/NETGEAR.

More from Electrical Equipment & Systems