Eriez® Wet Drum Separators Offer Innovation in Magnetic Circuit Design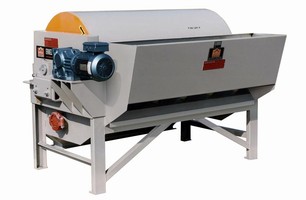 Erie, Pa.- With the newest advances in magnetic circuitry design, plus over a quarter of a century of experience with solid/liquid separation, Eriez® is setting industry standards with their superior Wet Drum Separators.

Innovations in both magnetic circuit design and materials of construction are applied to Eriez Wet Drum Magnetic Separators, resulting in maximum magnetic recovery while operating with a minimum amount of wear and maintenance. Furthermore, refinements in the magnetic circuit, tank design and drive systems have resulted in additional improvements in metallurgical performance and operation.

Users benefit from Eriez' advanced design capabilities and uncompromising commitment to quality. The appropriate magnetic circuit for any given application is designed using finite element analysis modeling techniques. All stainless steel construction provides excellent wear characteristics. Various drive options are also available. Drive systems include chain and sprocket, synchronous (cog) belt and shaft mounted direct. All Eriez Wet Drum Magnetic Separators also receive a complete inspection to evaluate magnetic field profile, mechanical integrity and appearance.

Other features include:
o Accurate drum positioning at factory eliminates field adjustments
o Modular tank for easy installation
o Full with overflow weirs
o High volume input
o Low initial costs
o Now available with high energy rare earth magnets

Eriez is recognized as world authority in advanced technology for magnetic, vibratory and inspection applications. The company's magnetic separation, metal detection, materials feeding, screening, conveying and controlling equipment have application in the process, metalworking, packaging, recycling, mining, aggregate and textile industries. Eriez manufactures and markets these products through eleven international facilities located on six continents. For more information, call toll-free (888) 300-ERIEZ (3743) within the U.S. and Canada. For online users, visit www.eriez.com or send e-mail to eriez@eriez.com. Eriez World Headquarters is located at 2200 Asbury Road, Erie, PA 16506.

More from Electrical Equipment & Systems