EPSITRON Line Now Carries GL Approval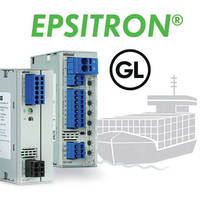 GERMANTOWN, WI – EPSITRON® CLASSIC power supplies and electronic circuit breakers now carry GL marine and on-and-offshore approval.



Offering an ultra-slim power supply package solution featuring economically-priced 1-, 2- and 3-phase modules, EPSITRON® CLASSIC power supplies feature an identical housing profile, and wide input and voltage range.



787 Series EPSITRON® circuit breakers offer excellent features and reliable protection against overload and short circuits. With a maximum width of 45 mm, WAGO's electronic circuit breakers feature high channel density, providing space-saving installation in the control cabinet.



EPSITRON® CLASSIC power supplies (787-16xx) and electronic circuit breakers (787-166x) with GL approval are now compliant with the highest safety standards making it the ideal integrated solution for worldwide use both on-and offshore.



About WAGO:



Innovation is at the heart of everything we do at WAGO. From our pioneering CAGE CLAMP® spring pressure connection technology to our extensive range of Interconnect, Interface and Automation solutions, such as the fieldbus independent WAGO-I/O-SYSTEM, our customers count on the unconditional performance and reliability of our products to ensure the safe, efficient operation of their systems every time.



For additional information, visit www.wago.us. Contact WAGO at 1-800-DIN-RAIL or info.us@wago.com.



More from Architectural & Civil Engineering Products