Enerpac Introduces New Split Flow Pumps to Safely and Precisely Lift Evenly Distributed Loads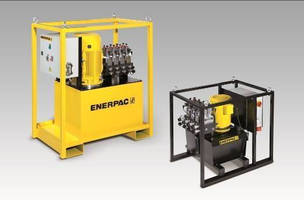 Enerpac has introduced to Australia a new range of split flow pumps, specifically designed to assist in safely and cost-efficiently lifting evenly distributed loads for the building and construction, mining, oil and gas and shipping industries.



The SFP-Series electrically driven 700 bar split flow pumps are an ideal solution for lifting applications with lifting multiple points where lifting synchronisation of a maximum plus/minus 4% is appropriate to ensure safety of the job.



Where such limits are appropriate, the new SFP-Series split flow pumps are a safe and economical solution to ensure load is evenly distributed over the lifting points, says Enerpac.



For even more precise lifts, the SFP-Series is complemented by the PLC-controlled EVO-Series Synchronous Lifting System, which can lift uneven loads with 4, 8 or 12 points all controlled from a central control position.



SFP-Series split flow pumps are particularly beneficial when lifting complex loads with multiple lift points, and are a far more efficient and safe option than using separately operated pumps, as they provide greater consistency of flow. The load can be lifted simultaneously using single or double-acting cylinders. Depending on the application, the lifting points can be operated individually or simultaneously.



The SFP pumps, which are encased in a rugged roll-cage for harsh applications, feature both single and synchronised multiple outlet control either through joystick or pendant operation, for optimum efficiency during differing lifting tasks. They are offered with 40 or 150 litre reservoirs.



Each outlet has equal oil flow and the pump can be divided into 2, 4 or 6 split-flow outlets, depending on individual requirements. The flow ranges from 0.45-4.20 l/min at 700 bar.



SFP-Series split flow pumps are ideally complemented by Enerpac RC-Series single acting cylinders and RR-Series double acting cylinders, depending on the application. The RC-Series features general purpose cylinders, designed to be used in all positions. They are made from high strength alloy steel for durability and are made for ease-of-use, reduced wear and extended overall life. The RR-Series features cylinders designed ruggedly for the toughest job sites and for high cycle industrial use. They come with a built-in safety valve to prevent accidental over-pressurisation.



The SFP-Series is the latest edition to Enerpac's comprehensive range of high pressure (700 bar) lifting equipment, and has been designed with Enerpac's global expertise to the highest levels of safety, efficiency and reliability, backed by sales and service teams across Australia.



Enerpac is an international market leader in high-pressure hydraulics, with 28 offices in 22 different countries and more than 1,000 employees. Enerpac has been established in Australia and New Zealand as a major supplier of high-pressure (700 bar) hydraulic equipment for 50 years, having nationwide service backup and a strong distribution network.



For more information about Enerpac equipment in Australia, please contact Enerpac, Block V. Unit 3, Regents Park Estate, 391 Park Road, Regents Park, Sydney 2143, ph Australia (61) Sydney (02) 9743 8988, fax (61) (02) 9743 8648, e-mail info@enerpac.com.au. For more information about Enerpac equipment in New Zealand please contact Neville Stuart on 02 166 7716 nevilles@xtra.co.nz



Enerpac is wholly owned by Actuant Corporation, a diversified industrial company serving customers from operations in more than 30 countries and is headquartered in Menomonee Falls, Wisconsin. Actuant trades on the NYSE under the symbol ATU. For further information on Actuant and its businesses, visit the Company's website at www.actuant.com



For information about this media release, please contact Brent Whyte at Whyte Public Relations Pty Ltd, Suite 102, 272 Pacific Highway, Crows Nest, Sydney 2065, Australia ph +61 2 9439 9329, fax +61 2 9439 9190, email whyte@bigpond.com.

More from Thermal & Heating Equipment