En-Masse Drag Conveyor Improves Glass Cullet Delivery for a Processor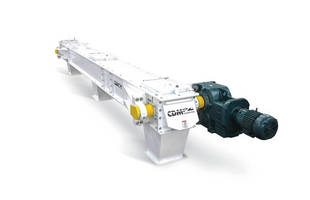 CDM Systems, an industry leader in the design and manufacturer of engineered En-Masse drag chain conveyors and systems, solved a material handling challenge for a Glass Cullet processor. The conveyor safely and effectively delivers the glass to the melter from a storage silo. The conveyor delivers the material at a rate of 16.5 TPH. The conveyor self-meters from the product silo through a VFD which varies feed rates from 5.5 – 20.5 TPH.  This feature allows the producer to meter the feed rate into the melter depending on output requirements.  A custom engineered kick-out end flap shuts the conveyor down in event of a material plug.  The removable drive shaft assembly minimizes maintenance time and the heavy-duty construction, such as A.R.S steel plate with corrosion allowance and bolted housing, provides a long service life. 



"Screw conveyors are often selected for moving glass cullet, however the En-Masse drag chain is a much better design for this application because the material flows in a single mass or column rather than rotating through a screw. Not only can the En-Masse move much greater volumes with a smaller required conveyor footprint, but the En-Masse will also provide a much longer service life and little-to-no unexpected downtime due to conveyor component breaks", states Andrew Parker, CDM Systems, Inc. Vice President.



The CDM En-Masse Drag Chain Conveyor offers positive payback and low total cost of ownership over other conveying technologies. The wide range of flight designs means the drag chain conveyor can move virtually any particle size and type of material at varying volume requirements.



For more information on the CDM En-Masse conveyors visit, www.cdmsys.com or call 763-428-9700, or email sales@cdmsys.com



About CDM Systems

For more than 40 years, CDM Systems has provided the best in En-Masse conveyors and conveying systems that set the industry benchmark for quality, dependability, and operational efficiency. We use our material handling experience and industry knowledge to solve the most difficult bulk transportation challenges. Our conveying systems are specifically designed for reliable 24/7 operation in aggressive and high-temperature applications. Whether unloading trucks, railcars, or vessels, or moving commodities within a process facility, we provide the technical support and the right equipment designed specifically for your needs.



More from Thermal & Heating Equipment